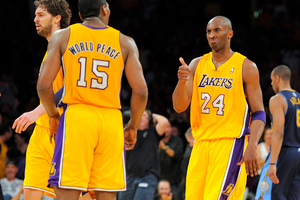 Metta World Peace has resurrected the LA Lakers' NBA season, helping them to a 96-87 win over the Denver Nuggets in their winner takes all game seven Western Conference first round series.
In his first game back since serving a seven game suspension for elbowing an opponent at the end of the regular season, World Peace scored 15 points and claimed five rebounds.
He says his effort on defence pleased him the most.
He says the defence and things you can't see are what he does best.
The Lakers will meet Oklahoma City Thunder in the next round, pitting Metta World Peace against the player he elbowed, James Harden.
Meanwhile, the Boston Celtics have taken the first game of their Eastern Conference semifinal series against the Philadelphia 76ers with a 92-91 win.