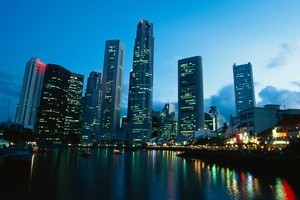 A New Zealander accused of taking part in a drunken taxi rampage in Singapore has skipped bail and his family say he has no plans to return.
An arrest warrant had been issued for former Junior Tall Black Robert Dahlberg, 34, who was working as a broker, Singapore police said.
The Nelson man was charged with grievous bodily harm and assault after the incident in April last year - charges with a sentence of up to 10 years' imprisonment and the cane, said police.
In July this year, Dahlberg was granted bail for $25,000 on the condition he returned to Singapore for sentencing. However, he did not return on July 29 and is understood to have travelled to London and Hong Kong.
Singapore courts issued a warrant for his arrest on September 12.
Dahlberg's father, Bill, confirmed Robert's bail had been paid and his passport returned to him by officials.
Asked if his son would be returning to Singapore, he replied, "I would think not". He declined to comment further.
Dahlberg had been living in Singapore for about five years and was out drinking with two friends, British man Robert James Springall, 24, and Nathan Robert Miller, 35, an Australian, at Suntec City on April 11 last year when the incident happened.
The three men were believed to be drunk when they allegedly abused two taxi drivers and two passengers.
Dahlberg is understood to have punched a businessman and pushed another man, causing his face to hit a pillar, reportedly fracturing his Nasal bone and cutting his head.
Springall allegedly hijacked the cab and crashed it.
Miller was charged with disorderly behaviour for allegedly jumping on the car bonnet.
- APNZ