NZ link marks expansion for US carrier which has been targeting high-growth markets in Asia and Australia.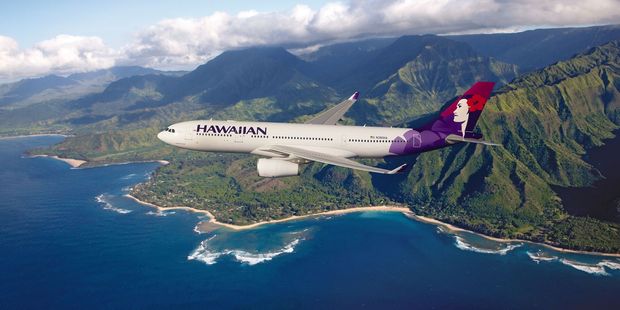 Hawaiian Airlines is bucking the industry trend with its rapid expansion during the past 2 years.
While many other full-service carriers have cut services, consolidated and deepened alliances with rivals, Hawaiian has expanded rapidly through the Pacific Rim, and is about to start flying to New Zealand.
Hawaiian Airlines will be the first United States carrier to fly to New Zealand for more than a decade when it starts services three times a week from March 13.
Even before its arrival there's been a price war with Air New Zealand, which has had the route to itself for years.
Hawaiian Airlines president and chief executive Mark Dunkerley is due in Auckland for a launch function today and said the carrier had hit a sweet spot since changing its strategy six years ago by targeting high growth markets in Asia and Australia.
"The big decision we made in 2006-07 was that the future for Hawaiian lay around the Pacific Rim and less around the US mainland."
Since the middle of 2010 the airline has added eight destinations, including the Auckland-Honolulu service, while other full-service carriers, apart from Chinese and Middle Eastern airlines, have largely consolidated or pulled back from routes.
Hawaiian has always been a leisure carrier, a relatively strong segment of the market compared with business travel, which suffered from the global financial crisis.
Dunkerley was hired to steer the airline out of bankruptcy protection 10 years ago.
Years of losses, high debt and a travel slump after the start of the Iraq war forced the airline to seek Chapter 11 protection while still able to fly.
"We're a much stronger carrier than we were back then. At the time we went into bankruptcy there was a lot that was fundamentally flawed about the business." He said high labour costs were not the problem and it was able to retain its workforce of 4500 and pay back creditors in full.
"What it did was give us a breather to get our strategy right for the times and re-tool."
The airline opted for new Airbus A330s, better suited to long-haul Asian and Australian routes than its Boeing 767s.
With the exception of one year, the airline has been in the black every year since 2005.
It made a profit of about $63 million in 2012 and Dunkerley said it was on track to improve this year, assuming fuel prices do not skyrocket from already high levels.
At the time of its bankruptcy, the airline had little control over ticket sales, dependent then on the wholesale distribution system which was collapsing in the United States.
It now controls its sales and, depending on the market, will work closely with travel agents.
"When we go into places like Japan, Korea, Australia and now New Zealand we approach the market the way customers like to buy their tickets with a strong travel agent presence and that's the way we intend working in the future. It's horses for courses."
Since announcing its entry into the New Zealand market almost a year ago, Hawaiian has already created waves.
Rival Air New Zealand has dropped fares, put on a bigger aircraft and added a third weekly service.
Dunkerley said Hawaiian was used to competition.
"We face competition on all our long-haul routes and are used to competing against embedded national carriers."
Air New Zealand flights were on sale for $955 at Flight Centre's travel expo at the weekend and a four-day holiday flying Hawaiian is now on offer for $1299.
Dunkerley said promotional pricing would continue, especially out of the peak times - the northern summer holidays, Easter and Christmas.
The airline was promoting New Zealand through its sales channels in the US, including to a selection of its hundreds of thousands of frequent flyers but so far most bookings had been New Zealanders wanting to take a holiday in Hawaii and beyond to the outer islands, or 11 of the cities on the US mainland.
Dunkerley said New Zealanders were attracted to clear US immigration through Honolulu rather than through Los Angeles, a notorious choke point.
Also popular was the airline's total 64kg baggage allowance, achieved because the big planes were flying for around nine hours between Auckland and Honolulu rather than more than 12 hours on most long-haul destinations out of New Zealand.
"If we were flying further then that would be more of a problem. It's part of our product and what we think is important for customers and so far we've decided to stick with that."
He said the airline had quickly increased capacity to Australia and would do the same here, depending on demand.
"We can move pretty quickly, we have new aircraft coming in, it's a question of the order you do things.
"We'll be in a position to leap on it very quickly."
Tourism tipped to benefit from airline's arrival
The travel industry says consumers and the tourism sector will be big winners from Hawaiian Airlines' entry into the New Zealand market.
Auckland Airport says having an airline that was growing strongly was a boost for the inbound tourism industry.
Glenn Wedlock, the airport's general manager aeronautical commercial, said the link could help revitalise the flat US market.
"It's really important to get them in, one of the things New Zealand has lacked has really been the shop window in the United States. While we've had Qantas and Air New Zealand doing promotion, a non-US carrier doesn't have the same network and reach."
Hawaiian was a well-known brand within the the US and had distribution partnerships in the marketplace.
"New Zealand as a destination rates highly on the wish list but conversion to coming here is our biggest limitation. You go into a travel agent in the US and you just don't see us."
Because of Hawaiian's reach outside the biggest West Coast cities, Los Angeles and San Francisco, New Zealand would be available to deeper pool of American tourists.