Airlines welcome decision, which follows Chinese delay of Airbus aircraft purchases.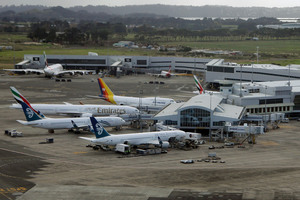 A potential trade war has been averted - for a year at least - by the European Union's decision to put on hold a controversial measure to impose levies on foreign airlines flying to or from European airports.
The plan has been put on hold until September next year, while countries negotiate a global pact to cut pollution.
The European Commission, the EU's regulatory arm, made the surprise announcement early yesterday.
Airlines have welcomed the decision to "stop the clock" on the EU scheme for flights as a step in the right direction.
The International Air Transport Association (IATA) said the commission's decision recognised progress that has been made towards a global solution for managing aviation's carbon emissions.
Commission climate commissioner Connie Hedegaard said the decision was made to create "a positive atmosphere" for negotiations under the United Nations' International Civil Aviation Organisation to establish a global market-based mechanism to cut carbon discharges.
Countries including India, Russia, China and the United States have been bitterly opposed to the EU scheme and were dubbed the "coalition of the unwilling" as tension flared earlier this year.
IATA's aviation environment director, Tony Steele, said airlines were being unfairly targeted as they were being levied for emission for the whole distance of the flight even though a small percentage takes place in European airspace.
The dispute had already resulted in some airlines delaying purchases of new aircraft from European manufacturers and there were threats to limit the number of overflights from European carriers.
Airbus chief executive Fabrice Bregier said in September that China was withholding signature on 35 to 45 orders for wide-body A330 planes as it awaited a signal from the EU that plans to include global airlines in the emissions trading scheme would be suspended.
The EU had argued that the scheme would only add between €4 and €24 ($6.20-$37) to the price of a return long-haul flight.
Air New Zealand said this year the scheme had a minimal effect on the airline because it had switched to more efficient aircraft than flown during the reference years.
Hedegaard said that if ICAO did not make progress towards a global deal by this time next year the European tax brought in in January would be reintroduced.
Airliners contribute about 2 per cent of global man-made carbon dioxide emissions, forecast to grow to 3 per cent by 2050.
- additional reporting Bloomberg