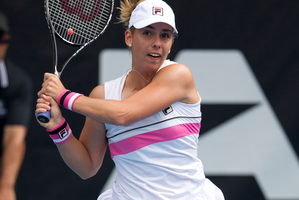 Marina Erakovic Kiwi No 1 Marina Erakovic had a heart-breaking defeat in the first round of the Australian Open in an epic contest yesterday against France's Alize Cornet.
Former world No 11 Cornet won 7-5, 6-7(3), 10-8 with the match total of 43 games just five off the record set in 1996 between Arantxa Sanchez Vicario and Chanda Rubin.
Erakovic will rue her chances as she had service breaks in all three sets and completed 17 double faults in total in the match and at times looked the better player as Cornet scrambled and chased down shots which looked like winners.
Played in front of a large and enthusiastic crowd which was fully behind the Kiwi, the match never had a rhythm with both players looking set capitalise on service breaks or game points on their serves before letting their opponents come back into the match.
If she had won against Cornet there would have been a second round meeting with former world No 1 Venus Williams.
Erakovic will now play in the doubles where she will team up with Britain's Heather Watson and face ninth seeds Anna-Lena Groenefeld and Kveta Peschke this week.
There was no talk of injury as Russian Maria Sharapova ruthlessly blasted her way into the second round.
Sharapova withdrew from the recent Brisbane International lead-up tournament, complaining of a collarbone injury.
But if she has an issue, her hapless opponent Olga Puchkova, would doubtless have been astonished.
The second seed may have begun with a couple of rusty points, but after her compatriot trudged off the court following a 6-0, 6-0 drubbing, there was little doubt over her fitness.
Poland's in-form Agnieszka Radwanska also failed to concede a game in the final of the Sydney International and she, too, made her way to the second round.
Unbeaten this year after back-to-back tournament wins in Auckland and Sydney, the 23-year-old beat Australian wildcard Bojana Bobusic 7-5, 6-0.
A 6-0, 6-0 winner over top-20 player Dominika Cibulkova in last week's Sydney final, Radwanska took some time before settling into the match but wasted little effort in the second set to breeze through.
Sharapova permitted Puchkova just 23 points as she ripped through the match in 55 minutes but it wasn't a scoreline which was important to her.
"When you're out there and playing, you're just focusing on every point and every game and trying to win as many as you can and today was just a good scoreline," she said.
- AAP
- APNZ