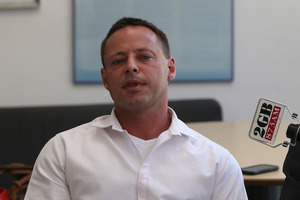 David Hicks, the former Australian Muslim convert held for years in America's notorious Guantanamo Bay prison in Cuba, will try to clear his name through an appeal against his conviction for providing material support for terrorism.
The crime did not exist at the time of his arrest and did not come into force until five years later. The legal team representing Hicks also alleges he was tortured.
Hicks was captured in Afghanistan in 2001 by troops of the Northern Alliance, a coalition of warlords fighting the Taliban, and sold to United States forces for US$1000.
He was held for more than six years at Guantanamo before agreeing to a deal that saw him returned to Australia, where he had been treated as a pariah by former Prime Minister John Howard's Liberal government and reviled as a "traitor" in the media.
Unlike Britain and the governments of other nationals held in the prison, Australia made no efforts to free Hicks or demand an early trial, accepting the US position without question. "He knowingly joined the Taliban and al-Qaeda," said Howard. "I don't have any sympathy for any Australian who's done that."
Hicks converted to Islam in 1999, trained with the Kosovo Liberation Army during the war against Serbia, and later in Pakistan with Lashkar-e-Taiba, an Islamic terror group fighting to eject India from Kashmir.
In 2001 he moved to Afghanistan, where he met Osama bin Laden, the late founder of al-Qaeda, and was posted to Kandahar to fight against the Northern Alliance. The US alleged he intended to fight against Coalition forces. Hicks denied this.
Hicks was imprisoned for more than six years before reaching a plea deal in 2007, under which he was convicted and returned to Australia.
Hicks, who renounced Islam in Guantanamo, is now challenging his conviction in the US Court of Military Commission after a Court of Appeals ruling last year that the charge could not be applied retrospectively.
His lawyers also said in court documents that Hicks' guilty plea had been forced by his extended detention, torture and abuse.
"Over the course of more than five years, Mr Hicks was repeatedly beaten, sexually assaulted, threatened with deadly violence, injected with unknown substances and subjected to an entire arsenal of psychological gambits ... that had as their aim the destruction of his personality," the documents said.
"He was stripped naked, deprived of sleep for extended periods, cast into solitary confinement, contorted into shapes that no human body should be forced to assume, and told that he would never again set foot on his native soil."