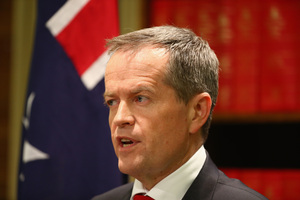 Labor just can't help itself. Within a week of Bill Shorten's ascension to the leadership with a promise of "zero tolerance" for disunity, MPs have been at each other's throats.
Shorten is under attack for factional deals that disgruntled MPs said confirmed that the "faceless men" were still at the helm. Former Prime Minister Kevin Rudd is facing demands that he quit Parliament, hammered by bitter criticism of his role in Labor's downfall and more revelations of a "chaotic, dysfunctional" leader.
While bloodletting always follows defeat - especially of the magnitude of Rudd's loss last month to Liberal Tony Abbott - the outpouring of venom underlines the task facing Shorten in rebuilding the party. Although the Labor Government guided a large number of often controversial bills through Parliament, it was doomed by unrelenting internal warfare.
Former Attorney-General Nicola Roxon pushed bitter divisions to the surface again in a speech on Wednesday night, defining the problems Labor needs to address and lambasting Rudd as both a deeply flawed leader and political saboteur.
She said Rudd had been unwilling to allow his Cabinet to make big strategic calls, refusing to list contentious items on its agenda and submitting to an "overwhelming inclination to focus on minutiae" as a way of avoiding the big, harder decisions.
Roxon said that while frustrated by Rudd's disorganisation and lack of strategy, she had never been a victim of his temper - but she did see how terribly he treated some brilliant staff and public servants. "Good people were burnt through like wildfire."
During negotiations on health reforms he had "icily ignored" then New South Wales Premier Kristina Keneally, in private calling her "Bambi". Roxon said: "She was whip-smart and went on to run rings around us at the final negotiating table. As a result, Kevin conceded more to NSW in hospital beds at the expense of money set aside for mental health.
"Removing Kevin was an act of political bastardry, for sure. But this act of political bastardry was made possible only because Kevin had been such a bastard himself to so many people."
Earlier, former Speaker of the House Anna Burke, who was overlooked in the leadership team, attacked the deals that had swung Shorten's decisions. "Our new leader may hope for no rancour in the caucus, but the current outcome of the shadow ministry reflects an immediate reversion to the 'faceless men' being firmly in control," she wrote in the Guardian Australia. "Caucus voted on factional lines for the leadership and then sub-factional lines for executive positions."
Dumped former frontbencher Warren Snowdon condemned the selection of the shadow ministry by a "cabal". And former MP Maxine McKew, one of Rudd's strongest allies, also unloaded on him in a new book, accusing him of "going off the deep end", "stupidity" and "idiocy" during the election campaign.