Two expat Kiwis are helping shape the next generation of young Australian chefs.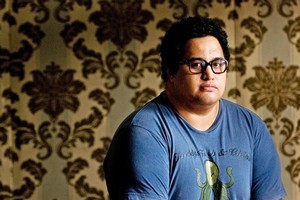 Getting yourself noticed is no easy thing on the Sydney food scene, but a new initiative, Taste of Young Sydney, or the Toys collective, is setting out to make sure the city's top young chefs make their mark. Part of this rebellious young movement are Kiwi chefs Morgan McGlone and Analiese Gregory who will be visiting here next month to join their Auckland counterparts, the Next Crew, in a special dining event.
Morgan McGlone
You might recognise McGlone from his stints as a guest judge on the first season of New Zealand's Next Top Model. An odd job for a chef you might think, but this colourful personality has led a colourful life, including being a model booker in Paris and working as a photographer's assistant for a day in New York. The photographer was Richard Avedon and the model was Christy Turlington showing off her yoga poses. "It was the most tedious job but watching Christy Turlington helped pass the hours," he laughs.
You can't miss McGlone even if you missed his television appearances. With his distinctive tattoos and solid build, he has packed a lot into his 37 years. Born in Tokoroa, McGlone is a third-generation foodie - his grandfather was a chef in Ireland before moving to New Zealand, his father a chef in New Zealand and Australia. McGlone moved to Sydney when he was 5 but was sent home to live with his grandfather in Hastings for his last years of high school. "I'd been a naughty boy but coming back here was good. It gave me a good introduction to independence," he says sagely.
"Food was always big in our family on the Irish side and also on the Maori side - my grandfather was a farmer who worked at the freezing works so there was always an awareness. So when I started my apprenticeship in Sydney at the respected restaurant Summit I just had an innate awareness of how to do things."
After a couple of years he realised he wanted to grow and McGlone joined Sydney icon Luke Mangan at his CBD and Salt restaurants. He worked there for six years, during which time he helped open White at Auckland's Hilton hotel.
"When I first started out Marco Pierre White was really massive. With my first or second pay cheque - which was a pittance - I remember spending it on his book White Heat and discovering how amazing food could make you feel. To be honest, when I started in this industry I kind of cruised along and it wasn't later that I realised what was involved to be good. I went to France to work and this was so important to my training; it's where food has a big effect on people. I lived there for five years, knowing the culture and how important food is in everyday life - the nuances.
In Paris, McGlone worked for Pierre Gagnaire's restaurant Gagnaire on Rue de Balzac.
"He was a master, a demi-god. He was like a freak to be around and barely spoke to me but I learned so much. Likewise, I was very fortunate to work with a showman like Luke Mangan. He taught me so much, things that I've never been able to learn from anybody else since and things I still use today. We [haven't] spoken since I left to go to New York, but I will always respect him."
After working as a private chef New York McGlone headed back to Paris where he took a break from the food scene and, through contacts, worked for Next Model Management Europe in Paris, Milan and London. From here he headed to Brazil for two years because "I love Brazilian women".
In 2008 he returned to Sydney and with his brother set up his own restaurant, Flinders Inn, which they recently sold.
"It's hard to make it in Sydney because it's so fickle. Ours cranked for the first 18 months but then new restaurants opened and people moved on."
McGlone describes his style of cooking as eclectic, influenced greatly by modern French cuisine and modern techniques while using ingredients that are different.
"The great thing about here and New Zealand is that we don't have boundaries."
Unlike his mentors McGlone has no aspirations to be a food god - that's why he set up Toys.
"Toys is about not conforming, not wanting formal dining, doing things differently.
"As the next generation of chefs we want to drive information-sharing; once everyone has let go of their egos - everyone, everything is going to grow.
"Toys was set up to be a think tank where chefs can trade information so that Pacific or Oceanic cuisine can form and we can take it to the world.
"If one chef finds an amazing ingredient we can tell others as opposed to keeping it to ourselves. I think a lot of chefs are egotistical or scared to trade information. We want to stop that, the new generation wants to share.
"There is a wave of change with the concept of dining here in Australia. Everyone is going to shared plates - the three-course or even the multicourse extravaganza is slowing down. Here in Sydney people don't want that so much - it's a fast society. The food is very modern, very technique-driven."
Never one to rest on his laurels, McGlone is off to New York shortly to help open two restaurants - one a nightclub bar in Manhattan - the other with top chef Zakary Pelaccio of the Fatty Crab and Fatty Cue restaurants.
"That is going to be exciting, creating a new vibe. I'm going to do some research in South Carolina down in the barbecue triangle with an incredibly talented chef who is using Southern barbecue food but with modern techniques, it is mind-blowing.
"When it comes to the next generation of chefs, don't judge. Some people think we might be flippant, arrogant or have a bad attitude but it's about pushing boundaries and sharing information.
"I think it's a great movement, you're going to see some really exciting things in the next five to 10 years and I'm glad to be part of it."
Analiese Gregory
Being able to say you work in one of the top 50 restaurants in the world is not a claim every young chef can make. But for Analiese Gregory, her role as a senior sous chef at Sydney's Quay restaurant has meant she has more than played her fair share in the restaurant's success.
Under talented head chef Peter Gilmore, this elegant restaurant on the water's edge at Circular Quay with stunning views of the Sydney Harbour Bridge and the Opera House, was this year voted the 26th best restaurant in the world in the San Pellegrino Restaurant Awards, and was the highest-rated Australian restaurant.
Gilmore's point of difference is his passion for exploring the natural flavours and textures of food, by using mainly organic produce, cultivating unusual breeds and presenting them in a way that is spectacularly fresh.
For 26-year-old Gregory her passion for food started at an early age, thanks her father, chef Mark Gregory.
"I grew up cooking and I remember when I was wondering what to do when I left school someone said to me 'you should do something you enjoy'. I knew I loved cooking so it was decided. I went to Tafe at AUT, worked at the Sheraton and then moved to Wellington where I worked at Icon with Peter Thornley and then Logan Brown - probably the best kitchen job I've ever had."
From here this self-confessed gypsy moved to Europe spending several years working for top Michelin star restaurants in London and Paris.
A trip back to New Zealand saw her launch Q restaurant at the Westin hotel with her father before moving on to Sydney. Here she followed her curiosity to find out more about molecular gastronomy and worked as a pastry chef at the renowned restaurant, Bentley. After a year she was getting itchy feet and it was recommended she check out Quay.
"I did a trial and really loved it. I had been working in a restaurant with just four chefs which creates quite a tight family, whereas Quay has 28 chefs. It reminds me of the kitchens in France. I'm one of the four senior sous chefs."
Gilmore goes in to work most days but not all day, says Gregory. "He does a lot of development; collaborating with producers on growing rare food items.
"At the moment he is working with a number of Australian-based potters who are making plates for the restaurant. Our degustation menu is now no longer served on white crockery but instead hand-made plates which is in fitting with the ethos of Quay.
"Quay is a lot about vegetables," laughs Gregory. "Pete tries to use all organic produce and he has a very tight relationship with an organic farmer in the Blue Mountains.
"A lot of people grow products specifically for Pete, he is like a vegetable visionary. A lot of things you see on Sydney plates now, like tiny radishes or little turnips, he started that by getting people to grow them for Quay. It's just caught on and become almost a movement.
"Everything here is organic, nothing is really cut into shapes - it's all very natural-looking. There are a lot of flowers used, so there are no superfluous garnishes - if there are garnishes they're herbs or edible flowers."
An example of what you'll find on the menu is native Western Australian freshwater marron with oloroso caramel, jamon de bellota infused cream and loads of organic pink turnips, organic pink radishes, almonds and society garlic flowers. Or - thanks to its appearance on MasterChef Australia - the delectable Snow Egg which consists of a ball of meringue with icecream in the centre which is then covered with a toffee biscuit. It is served in a Riedel "O" glass which at the bottom has a fool and granita which varies with the seasons from white nectarine, to mulberry to guava.
"Quay has opened up a different style of cooking for me. It's not like Noma [voted No. 1 restaurant in the world] but with aspects of what they do with natural produce.
"Plus, I've got into foraging which I'd never done before I came here. We don't do it for the restaurant because we have 100 covers here so that's a lot of flowers, but a lot of the chefs here do it in their spare time. Pete is also an avid gardener, he talks about it all the time and is constantly bringing things for the restaurant from his home garden.
"So that's inspired me to have a garden of sorts on my rooftop deck in the middle of Kings Cross where I grow society garlic, kumara, carrots, loads of herbs and miracle berry trees. It's really fulfilling."
Gregory does admit that it can be incredibly high pressure working in a kitchen like Quay and she doesn't always cope. "To balance it out I'm doing more things like growing my own plants, I've taken up horse-riding and other things that help me relax and de-stress. Otherwise, you can become too involved in it. It happens a lot that I'll spend all of my time off thinking about work.
"There are a lot of women chefs here in Sydney but there isn't a lot at the very top of the game. I think they drop off because of the hours and because it's so demanding. Now that I'm not 18 any more I can recognise how physically demanding it is. I'm really starting to feel it. I used to be able to function on three and half hours sleep but no more.
"For me being part of the Toys Collective is great; it allows you to connect with your peer group. We hang out and everyone's really into food and wine so we talk about it and inspire each other.
"The other day we all had yum cha above the fish markets together and Morgan hosts great dinners at his house - he just loves to cook for people.
"My ultimate dream used to be to have my own restaurant but now I'm not so sure. There's talk of opening another restaurant here and me being involved in that, and then there's the gypsy in me who wants to just bail and go and work somewhere like The French Laundry."
* The Toys Collective/Next Crew dinner will be held at a secret location in Auckland on June 12 and 13. Tickets go on sale next Wednesday and are $150 which includes a six-course degustation, matched wines, canapes and cocktails on arrival.