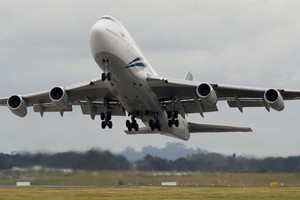 The Australian Competition and Consumer Commission (ACCC) has given approval for the proposed trans-Tasman alliance between Air New Zealand and Virgin Blue.
"I'm pleased that formal approval has been given recognising the benefits this will bring to our customers," Air New Zealand chief executive officer Rob Fyfe said in an announcement to the NZX.
Shares in Air New Zealand, which is 74.7 per cent owned by New Zealand taxpayers, have risen on the news and are now trading on the NZSX up four cents, at $1.47 each - a 2.8 per cent lift.
The alliance still requires the approval of the New Zealand Minister of Transport. Fyfe said he expected a decision within the next few days.
The approval will apply for three years to the airlines coordinating a range of issues including pricing, revenue management, schedules, capacity and routes flown.
The Australian Competition and Consumer Commission in September issued a draft determination proposing to deny authorisation for the alliance.
It said today it was still concerned the alliance may affect competition on a number of routes between Australia and New Zealand, particularly routes involving Wellington.
"However, the ACCC has imposed a number of conditions on authorisation which are designed to address these competition concerns."
The conditions require the airlines to maintain and increase the number of seats flown on the routes where the ACCC has identified competition issues.
The conditions are intended to restrict the ability of the Alliance to raise fares on these routes by limiting its capacity. the ACCC said.
Fyfe said on Tuesday he was hopeful regulators would give the proposed alliance the green light this week.
Air New Zealand and Virgin Blue responded to the ACCC's initial draft determination to deny authorisation for the alliance by providing guarantees on capacity growth.
"The ACCC is now satisfied that the identified public benefits, in combination with the conditions of authorisation, are likely to be sufficient to outweigh any public detriment arising from the alliance."
Air NZ and Virgin Blue had sought approval for five years.
"I would like to thank the ACCC for its thorough consideration of the issues and coming to a determination that favours customers and will see the Tasman market continue to grow," Fyfe said.
- NZ HERALD ONLINE with AAP