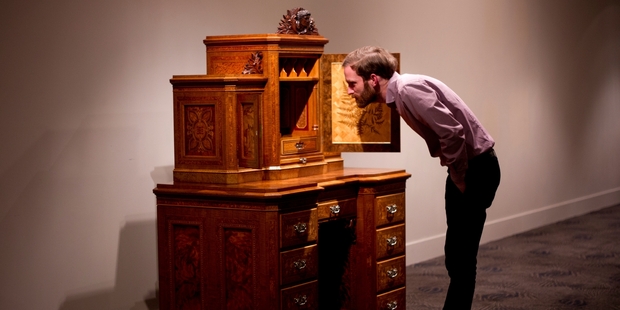 It is a piece of furniture that takes the breath away, just like it's price tag.
Auckland Museum has bought a desk for $500,000, bringing the historic piece of furniture back very near where it was painstakingly constructed at a workshop on Elliot St in the city.
The desk was made in 1900 after the people of Auckland, then part of a young colony, fundraised to recognise British Major-General Robert Baden-Powell's exploits in the Boer War in South Africa.
Lord Baden-Powell had led the 217-day defence of Mafeking during the war. Later he was known as the founder of the Scout movement.
It took distinguished cabinet-maker William Seuffert, who came to Auckland in 1859, three years to make the intricate escritoire piece. After a time at Hampton Court Palace in Surrey, England, the desk was kept by Lord Baden-Powell's descendants. It has now been acquired by Auckland Museum.
Curator Finn McCahon-Jones said the desk was a real presentation piece and significant on many levels.
"It's the intricacy and the composition and the craftsmanship of the inlay work on the desk, particularly the botanical specimens that has been inlaid with New Zealand timber all over the desk.
"It's slightly smaller than some people expect; they say 'where do you do your writing?'. There's a writing slope that you pull out beneath the cabinet ... rather than your full-on work desk."
The desk was bought with funds from an art trust established by Charles Disney, who left a significant endowment to Auckland Museum in 1967.
Mr McCahon-Jones said Mr Disney, who spent most of his life with the merchant navy, wanted the wider public to be able to access and appreciate beautiful objects.
"He saved this money, it didn't come from wealth, he saved it. And with one of the reasons for young people and people to come and get enjoyment and an appreciation of aesthetics."
The third Lord Baden-Powell, Robert Crause Baden-Powell, said he was pleased that the intricate desk was returning to Auckland.
"In 1947, as a 10-year-old boy fresh from the colonies myself, I still remember the first time we went to see Granny and as we rounded the corner being assaulted by this wondrous vision."
The desk, which measures more than 1.6m high and 1.3m wide, is on display from today in the museum's Encounters Gallery.