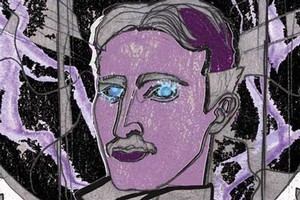 As its name suggests, Big Story, Small Space is ambitious, perhaps too ambitious - but then, a "let's give it a go" attitude is one of the appeals of a Fringe festival.
The small space is a fun novelty; a capacity audience of 40 is crammed into a black cloth cube, around a performance space of 1.2 x 1.2 metres.
The big story is the "War of Currents" business tussle between bullyboy Thomas Edison and his fellow inventor Nikola Tesla in the lead-up to the Chicago World Fair of 1893.
Like a film, the tale is told in lots of short scenes, with the unnecessarily large cast of six sporting a variety of 19th century suits and hats.
A 21st century physics student is our narrating guide, leading to a Back To The Future style sci-fi ending which, given the small space, is more successful than the earlier realist style.
Bemusingly, the historic story has no climax or conclusion but simply disappears, lickety-split.
Overall, the acting, pacing and accents overall have the uneven quality of an undergraduate show, but Roberto Nascimento is suitably subtle and expressive as the quiet Tesla, and red-bearded showman Ben Cragg livens things up immensely as Westinghouse, borrowing a wine glass from an audience member for a party scene.
The old-school machinery props and contraptions, created by art director Pritika Lal with assistance from Linh Pham, are amusingly inventive, incorporating egg beaters, plastic cups and a dustpan.
It would be interesting to see what this group could do with clearer goals in mind and more preparation time.
*Big Story, Small Space runs till Friday at The Basement Theatre