What better place than a race track to indulge in some precious father-son bonding, finds James Coleman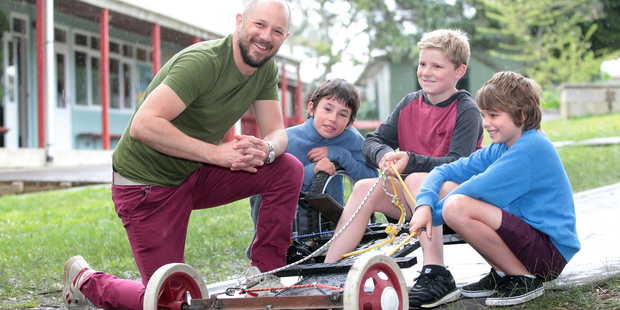 "You see some pretty sad, long-faced dads out here."
I meet Ross MacKay at the Rosebank Speedway in Avondale. His website says he's an award-winning motorsport journalist. We're at a racetrack for the final of the Rotax Max Challenge, a motorised kart race where some drivers will qualify to race in New Orleans.
It's not easy to know how to get into karting says MacKay but, generally, a dad needs a son to get involved. And a son needs a dad. Karting is sons and dads.
The long faces? Some sons move on - to girls or whatever. But the sad dads, not so much.
I'm at the track because I'm a dad, still at the happy-faced end of the journey, the level before entry level: I have a son but we have no kart. I wonder how many here today went wide-eyed before me to the pointy end of the market, to a place like Alpha Karts, which is based in one of those industrial cul-de-sacs in West Auckland, where you could easily chop $20,000 on a kart that will take you 150km/h, your bum maybe 50mm off the tarmac.
"Your 7-year-old can take part," says Matt Wallace at Alpha Karts.
Erm ... okay.
Like all today's hobbies, the sky's the limit. We're among spoilers, rims, karts on mobile pedestals, rubber and decals. This is where IndyCar champion Scott Dixon started, racing karts.
But there's yet another layer to this story. Our 7-year-old attends Westmere School, where the seniors have spent most of this term working towards the Westmere School Soapbox Derby (wheels, but no engine). On the second day of the final build, what appears to be around 30 pit crews, dads included, work on an oddball line-up of soapbox racers on the netball court. The Americans have been running soapbox derbies since the mid-1930s. Some do well over 100km/h.
Team XLR8 aren't here to flick spiders. They're here to win, and their machine is constructed accordingly. "All recycled," says one dad. "That's in the brief" (the tone unmistakably litigious). Lean like a skeleton, low and wide like a lizard, XLR8 crouches, pre-paint naked, on a clean strip of tarp. It looks tight and right. Jacob is the designated driver. Heaviest according to the team. "That's good for momentum." Right again.
XLR8's lizard skeleton is the realisation of a dream which began in cardboard, a scale prototype used to construct the final beast. But it hasn't been plain sailing. There have been ructions, most settled by referring back to the cardboard model. Made to scale, made to win.
The Barrel Bombers are literally a stone's throw away. Ply is bent around a frame to form a beautiful curved bonnet. Overheard mutterings from within XLR8's pit imply The Barrel Bombers have taken old-school to silly lengths. But The Barrel Bombers are building the perfect beast, thanks to the dads.
But back to Rosebank Speedway, where Aarron Cunningham's dad, Bob Cunningham, works on Aarron's kart. Aarron hangs about, socialising, eating. His Facebook page says "Aarron Cunningham - Kartsport Superstar - the best Cunningham brother to never win a National Title" and "Tigers don't lose sleep over the opinions of sheep".
I look at the Cunningham pit set-up. The tool chest, the racing suits, the fuel. This is of course the dream from when boys can first remember - a go-kart with an engine.
Stuart Horne of Alpha Karts reckons you might spend $5000 at entry level, which is a small price for all that father-son bonding, I'm thinking. Or would we descend into a "Buck up your ideas or forget karting this weekend" scenario. Hard to say, but one thing's for sure - back in 1977 as a 9-year-old in rural Rangitiki this would have been my dream. Dad buys go-kart. Spends all weekend watching 9-year-old race. Tuning, refuelling, rolling out the massive tool chest from the custom-built trailer. Then pushing him back out there in his machine wearing his custom-embroidered racing suit.
To outsiders, Aarron Cunningham Kartsport Superstar might appear the spoiled kid with the cash and the kart. He seems to know it, is even up-front about it, in a clever, David Brent kind of way. His machine reminds me of the kart I once saw doing a burn-out in the carpark at Big Boys Toys - a vulgar yet intoxicating display of raw power and burned rubber. It suddenly strikes me that the boorish individual under the helmet in the carpark that day could well have been Aarron Cunningham, Kartsport Superstar. He'd do something like that. That's why I like him.
Karting is balls out, smash yourself around a track sitting about 50mm above the tarmac, cornering-with-the-force-of-a-truck kind of stuff. High-speed karting looks like a whole heap of fun but probably actually isn't. The engine is beside you, up to 250cc of arm rest and is either tethered directly to the axle or through a gear box. (Yes - a go kart with gears - that's what I'm talking about right there). But with a gearbox comes weight - so, you know, the whole power-to-weight-ratio thing gets all ... thingy.
Aarron Cunningham, Kartsport Superstar, is the 125 Rotax Heavy Champion, despite finishing last in the final today. The battle out the front was intense for laps 1-25. But it didn't end well.
In the pits, I ask Aarron Cunningham, Kartsport Superstar, what happened out there.
"Kart No 7 happened."
I get the impression it was an awkward place to be right then for Aarron Cunningham, Kartsport Superstar. He knows he's no Scott Dixon and this ain't Indianapolis, here next to the Northwestern motorway in Avondale. But I can tell he wants to throw his custom-painted helmet.
Back at Westmere School, Dylan is super confident team Vroom Vroom Car have winning specs on their machine - a no-nonsense classic stubby T Bucket Soapbox Racer. Vroom Vroom Car's smaller crew of two had to pull back on some loftier plans, but the perfectly formed finished racer crouches in pit 12, lean and brutal on its blue tarp.
"It turns really good and it has speed, because of the big wheels at the back."
Vroom Vroom Car are serious contenders for the Westmere Cup, but they could be worried. Oliver of O-Some racing team and his big crew work on their air foils - at least three on the lengthy Formula One-inspired racer nearby in pit 15.
"We've made it aerodynamic, which is where the air relates with the object so it cuts through the air faster." Shot.
Two dads - executive mechanics - have directed construction, remembered, bonded, shared, guided.
Team Paw Prints' dad had a soapbox kart - "I didn't have such good wheels when I was a kid - I only had lawnmower wheels. That was all there was in the rubbish dump." He's right. Paw Prints have sleek rubber tyres on lightweight plastic rims. The kaupapa is recycled materials - a horrified Westmere mum is right now discovering her baby buggy up on blocks in nearby Old Mill Rd.
Poppy says they finished the build on The Ice Box yesterday. Jane is going to drive on the day, but no one knows what speed we're talking. Judging by the brand new, virtually frictionless rubber/plastic trolly wheels (thanks again, dad) paramedics could be busy in Wellpark Reserve on race day this Tuesday. What's more, like a majority of the other machines here at Westmere, brakes aren't bothered with. But Jane has a contingency:
"Drive it into the grass and hope I don't crash". Nobody can argue with that. As long as they're not humiliated by Chick Chick Boom, who have stuck with a poultry theme.
Chick Chick Boom have been listening intently to teacher Nicki Ford, organiser of Westmere School's Soapbox Derby. Ford has made sure everyone has access to what is known about aerodynamics, ergonomics, momentum and resistance. Yes, Chick Chick Boom are running what looks like a mini Country Fried Chicken Xmas parade float but with a front spoiler. The piece de no resistance. What The Ice Box boasts in running gear, you can bet Chick Chick Boom will almost certainly make up for in air flow. No wind tunnel necessary, thanks.
When it comes to pioneering transport Ford could easily have a fine pedigree. For the entire school term, her senior students at Westmere School have explored the history of soapbox racers - or gravity racers - hand-built racing karts which rely solely on gravity to move (in other words, they roll down a hill).
"We have some requirements on race day, like clothing and helmets."
No mention of brakes.
Bucking what appears to be the foolhardy trend, team Wheel Chair does have brakes.
Oscar's Poppa provided all wheels - from his golf cart and an old bike the boys took to with an angle grinder. The team were instructed to install a stopping mechanism after organisers discovered with horror what speeds their innocuous-looking little death trap was capable of.
"We got a door hinge and stuck a bit of wood on it and then got a bungee cord to keep it up off the ground all the time, and we pull it to activate the braking mechanism." Oh great. Certified safe.
In the final at Rosebank Speedway, Kart No 7 smashed up the back of Aarron Cunningham, Kartsport Superstar, dislodged the exhaust pipe, which shoved up into the power band knob, melting it. Race over in lap 26 of 32. But the final race of the season is but one part of the journey for Aarron Cunningham, Kartsport Superstar. He takes the podium today, 20 points ahead overall.
At Westmere, it's raining. The soapbox racers are parked in the school hall, a glorious, happy, ramshackle legacy of parent-child bonding. The Soapbox Derby is postponed until next term. Somehow, the race isn't what matters.
At the speedway Aarron Cunningham, Kartsport Superstar, is drinking beer. Bob Cunningham is breaking down the cart, assessing damage. Both are happy.
Dads and sons. Sometimes difficult but not usually at the track.