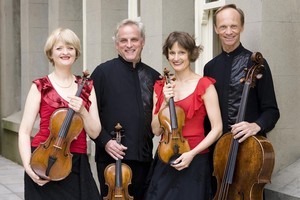 The New Zealand String Quartet always struggles to attract the Auckland audience that it deserves and Saturday's Bright Light and Cloud Shadows concert was shamefully under-patronised.
Playing music that will soon be released on the group's upcoming Naxos CD, the NZSQ focused on five Asian composers who, though working in the west, draw their inspiration from their own cultural and spiritual heritage.
The players' spoken introductions, as always, were nicely judged. Rolf Gjelsten alerted us to Gao Ping's Bright Light and Cloud Shadows as being an impressionistic slice of life; the group conveyed just this, with every line and streak of colour making their point.
Helene Pohl introduced Chinary Ung's Spiral III, letting us in on a Gershwin connection not mentioned in the composer's programme note. And it was wittily evident, especially when bluesy slides shared territory with oriental glissando.
The four musicians gave Spiral III their passionate best, admitting they were thrilled to have the composer in the audience. Ung, for his part, confessed to me later that he was equally taken with their performance.
Zhou Long's Song of the Ch'in may have been inspired by the Chinese zither, yet a Tang dynasty poem, read out by Douglas Beilman, prepared us better for its bracing outbursts of sheer joy, worthy of a Chinese Dvorak.
After interval, Toru Takemitsu's A way a Lone was presented without the acoustic interference of an ecclesiastical setting as had been the case three years ago. Its mix of the late romantic and impressionistic seemed more potent than ever through spans of luscious harmonies.
Tan Dun's Eight Colours, the composer's tribute to the music of traditional Peking Opera, comes across a little like Webern Bagatelles that have taken a ride on the Oriental Express. These eight miniatures are crammed full of drama and evocation and, whether slapping and plucking out a Black Dance or addressing more spiritual matters in Zen, the NZSQ injected the music with the vivid sense of theatre needed.
Auckland Arts Festival
What: New Zealand String Quartet
Where: Town Hall Concert Chamber
When: Saturday