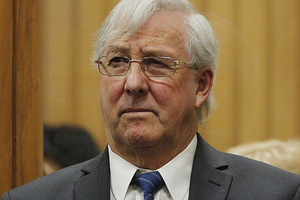 A man accused of killing a Turangi service station attendant more than 30 years ago has pleaded not guilty to a charge of murder.
Menzies Reginald John Hallett is appearing before the High Court at Rotorua charged with the murder of Rodney Tahu on August 16, 1979.
Mr Tahu was gunned down at a Turangi petrol station and died a few hours later.
A bespectacled Hallett, 72, wearing a blue suit, a tie entered a not guilty plea to one charge of murder.
The trial before Justice Ailsa Duffy was been adjourned to later this morning because of a lack of jurors.
Eleven jurors were selected but a twelfth could not be found as the rest were either challenged or excused.
Justice Duffy retired to chambers with the Crown prosecutor and Hallett's lawyer.
When she returned, she announced court would be adjourned until 2.15pm for court staff to contact others selected for jury service to see if they could be brought to court.
She also excused another juror, who had spoken to her when selected initially. The remaining 10 jury members were instructed not to speak to anyone about the case during the adjournment.
Prosecutor Fletcher Pilditch is appearing for the Crown and defence lawyer Paul Mabey QC is representing Hallett.
- APNZ