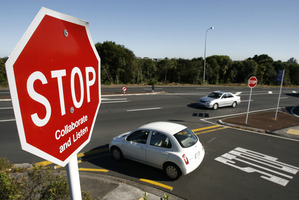 I was cycling to my office in the Auckland CBD along the great new on-road cycle lane along Ian McKinnon Drive through Newton when I felt a breeze which turned out to be from a motor scooter narrowly avoiding me. After passing around me, the scooter rider swerved back into the cycle lane, leaving me annoyed at having my life threatened in the small slice of tarmac I thought was to be reserved for non-motorised transport. The cycle lanes along each side of Ian McKinnon are particularly welcome as they are in a 70km/h traffic zone. Can you confirm my understanding that cycle lanes are for non-motorised transport only, and tell me what penalty would the scooter rider have faced if caught? Perhaps Auckland Transport could hasten what I understand is its consideration of lowering the limit to 60km/h.
Matt Meadows, Mt Roskill.
You are correct, Matt, cycle lanes are indeed for non-motorised transport.
The exception is for most city bus lanes, which may be shared by buses, cycles, motorcycles and motor scooters.
I have been unable to find out the penalty for unauthorised use of a cycle lane.
Auckland Transport announced at the end of last year that the speed limit along Ian McKinnon Drive was to drop from 70km/h to 60km/h early this year. It is now March and it hasn't happened yet.
A successful roundabout has been installed at the intersection of Onehunga Mall and Campbell Rd. I live close to Rawhiti Rd, Campbell Rd and the Cornwall Park entrance intersection and would like to see a roundabout installed here. Is this likely to happen? There is also a crossing close to the intersection and since it has been there it has been the cause of numerous accidents. I wonder if it could be placed in a better position on Campbell Rd. Julie Jarrett, One Tree Hill.
Auckland Transport is already on to this, and is at the design stage of a roundabout for this intersection.
Once it has received feedback from the community and sorted out the funding, AT expects to complete the project by the end of July.
As part of the project, the safety and operation of the current pedestrian crossing on Campbell Rd has also been assessed. Once the roundabout is installed, vehicle speeds are expected to drop on Campbell Rd, making it safer for pedestrians.
The proposed roundabout will reduce waiting times as well asqueuing distances for left and right turners from Rawhiti Rd and Bollard Ave.
The roundabout will work with the existing one at the intersection of the Onehunga Mall and Campbell Rd, to provide more efficient traffic flow along this route.
I'm planning to visit the Race Village for the Volvo Ocean Race this weekend. Where is it exactly and how do I find out how to get there and what's going on?
Anne Marsh, Parnell.
The Race Village is in the Wynyard Quarter near the Viaduct Basin, and spreads across the bridge towards Britomart.
To find out how the traffic is looking at any time, visit www.isitbusy.co.nz which will tell you about public and private transport options; www.maxx.co.nz is another good site.
To find out what's going on in the Race Village, go to www.volvooceanraceauckland.com which will tell you what's going on.
The boats leave on Sunday.