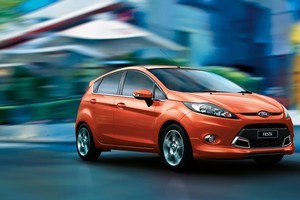 Small cars will represent 55 per cent of Ford sales by 2020
Ford wants to expand its global sales by 50 per cent by the middle of this decade, mostly through growth in Asia.
The company held an "investor day" in New York this week to present its plans for the future.
Ford sold 5.3 million vehicles last year, but wants to sell 8 million in the next five or six years.
It was the world's fifth largest carmaker last year, behind Toyota, General Motors, Volkswagen and Hyundai-Kia Automotive Group.
Ford wants more than one-third of its sales to come from its Asia Pacific and Africa region by 2020. That is double the number sold in those regions today.
Last year Ford sold 838,000 cars and trucks in the Asia Pacific region, which includes China, India, Australia, New Zealand, South Africa and Japan among its 12 markets. It controlled 2.4 per cent of that region's sales.
Ford has seen relatively strong growth in India, doubling sales last year thanks to the introduction of the Figo. But it is still a small player in China, where GM and Volkswagen have far more market share.
The company says most of the vehicles it builds will be sold globally, but it will offer lower-priced versions in emerging markets to attract buyers.
Ford said small cars will represent 55 per cent of its sales by 2020. While those cars are less profitable than Ford's larger trucks and SUVs, the company said it will improve operating margins from 6.1 per cent now to 8 to 9 per cent by the middle of the decade.
- Bloomberg