A group show brings together artists exploiting the possibilities of oil paint.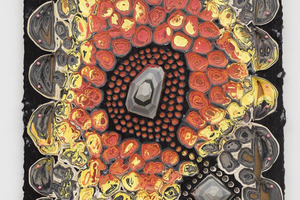 Is it economic pressure or the pressure of so many artists at work here that has led to a trend for group shows this year? The new bunch of galleries in Arch Hill are all showing a number of artists and Two Rooms is following the trend with six artists who all, more or less, use thick paint surfaces.
They range from Rohan Wealleans, who uses systems of paint so thick he can mine it for strata or build pyramids, to Noel Ivanoff, who makes thin paint glow and delicate, dark thicknesses of shade really important. Ivanoff's two paintings are both called Slider. One is light red and the other deep red and they both use subtle shading to suggest overlap and give a base for the glowing surfaces at the top.
Wealleans' work is described in the catalogue as "paint and mapping pins on board". The pins are used to hold open flaps of paint scalloped out of a multiplicity of layers of pigment laid down on the board. Adding pyramids of thicker stacks of pigment as well as fiery contrasts of red and black adds particular style to the ferocious Blood Thirst.
These works are next to a round painting by Alexis Harding called World View that is much more mild. The orange and turquoise paint is laid on thickly in waves and allowed to wrinkle and drip from the edge at one point.
Kevin Appel is keen on layers of paint overlaid with silk-screen patterns and ink-cured with ultra-violet light. The result is interacting overlays that do not take on depth but are tightly composed across the surface. The effect is all. Though not potent in colour, the works are cunningly constructed. They are quiet, ordered things with considerable presence.
Jeena Shin has four paintings where the forms just ghost into existence. She consistently uses triangular shapes that are almost the same subdued colour as the background they adhere to, grey on grey or black on black. The effect is a subtle form of decoration without much carrying power.
As a group show, the thematic link of thick paint turns out to be fairly slight but the quality of the work is uniformly high.
A separate show upstairs of black and white photography by Joyce Campbell reflects a disaster in the Wairoa region. In a group of atmospheric works, blackened trucks rise out of lake water or emerge from fog and are silent witnesses to disorientation and loss. Occasionally, indistinctness as a virtue is carried too far.
Another group show is Abstractions on Paper at Antoinette Godkin. These are small works of considerable grace and charm. Helen Calder offers combinations of small pools of thick, hardened pigment. Miranda Parkes, who became prominent with candy colourful works on crumpled hills of canvas, is here content to make sunny arrangements of soft colour.
The tone of the show is set by Vicki Ormond whose Over Easy #2 contrasts delicate colour with a pattern of black stripes.
Many of the works are inkjet prints rather than paintings. The process yields intense colour, notably in the witty rank of drinking straws, New Line, by Geoffrey Heath that owes something to advertising art and is made of found objects. Most intense of all are two prints by Paul Hartigan - close-ups of the coils of his well-known sculpture in neon tubes. The Ultrachrome process really captures the luminous colour of the tubes of light, but their cropping and sinuous rhythms make them independent works.
That quality images need not be expensive is demonstrated by a line of 29 modestly priced ink drawings by Nicola Holden, all called Horizon. They are abstract but suggest views out to sea.
The small Ozlyn Gallery continues its policy of often showing new young artists with Production by Andrew Kennedy. In the past, photographers endeavoured to make their work look like paintings. He continues the tradition but these are not scenic photographs - they are more like academic exercises.
Structure#1 is a corner, an exercise in space created by perspective. Arrangement#3 is a still-life of flowers in a clear glass vase. Production#4, a hand using a stapler, has the quality of a careful drawing in colour. As exercises they are cleverly done and an indication of a talent with considerable potential.
There are only two days left to see the display of works from the studio of the late Don Driver at Artis. They are done with found materials. The imagination of their combinations show why this unusual artist has a significant place in our recent art history.


At the galleries:
What: Painting Two: The Thick of It by various artists; The Thread by Joyce Campbell
Where and when: Two Rooms, 16 Putiki St, Newton, to 18 May
TJ says: A show of artists who inventively exploit the possibilities of oil paint, with a touch of ferocity from Rohan Wealleans. Upstairs, Joyce Campbell's misty black and white photographs speak of destruction and loss.
What: Abstractions on Paper by various artists
Where and when: Antoinette Godkin Gallery, 28 Lorne St, to May 18
TJ says: A group show of artists who show their lighter side with wit and elegance in paintings and prints.
What: Works from the studio of the late Don Driver
Where and when: Artis Gallery, 280 Parnell Rd, to May 7
TJ says: Driver's colourful assemblages - mostly of materials from Taranaki farms - magically transform the ordinary into something really special.
What: Production by Andrew Kennedy
Where and when: Ozlyn Gallery, 452 Karangahape Rd, to May 18
TJ says: A young artist reveals his eye for detail in a series of pigment prints with many of the qualities of painting.