Auckland Art Gallery's new show Angels & Aristocrats is a journey through our historic treasures. Adam Gifford reports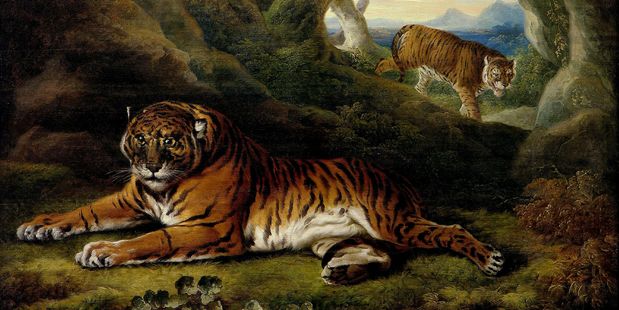 Half a century ago, the country's art museums were dark places where people went to see old paintings - the older the better. Now those early European art treasures are back in the light.
Angels & Aristocrats curator Mary Kisler sees the show not as a return to cultural cringe but as a sign of the country's cultural maturity. She cites former Auckland Art Gallery director Peter Tomory as evidence.
"He came here in 1956 as an expert in this stuff but he was also a great supporter of Colin McCahon and made sure he got a proper job here, rather than just sweeping the floors. He pushed British modernism and made sure we bought some really good stuff. He also pushed New Zealand modernism, and it was a very important time because New Zealanders needed to define themselves, whereas now everybody travels overseas so this stuff does not seem so foreign. You see it everywhere else, why not see it here as well?"
The show grew out of the book of the same name that Kisler wrote about early European art in New Zealand public collections, most of which don't have the resources for a dedicated curator.
"When Nicola Leggott (of Random House) approached me about writing the book, I always thought it would be an exhibition, so I said to the other galleries, 'I will give you all my research.' What is good about this show is it will be different in each city. There are 52 core works, but galleries will add to that from their own collections."
A late starter, Kisler didn't go to university until she was 35, when she did a double major at bachelor's and master's levels in Italian and art history, capped with a scholarship that paid for seven months in Italy. "That gave me a real understanding of how art relates to culture. I think I am a social art historian. I want to know why they were painted, who they were painted for and what they meant at the time."
Back in Auckland, she strung together short contracts at the university until a part-time job came up curating the McKelvie Collection, one of the foundations of Auckland's holdings of older works. At the end of the first year the gallery suggested she apply to look after the whole collection.
Kisler says Auckland is fortunate it has the financial support to have a dedicated curator for its historic collections, which isn't the case with many of the other regional galleries.
Walking through Angels & Aristocrats with her gives one the sense of excitement at what can be discovered in our galleries. Many of the works were gifted by people who had their own collections, or who wanted to start their own museums that would give the emerging nation a taste of what was available in the great institutions of Britain and Europe.
We may not have many of what are considered the great masterpieces, but often the quirky things that ended up in our galleries can be of as much interest because of what is hidden in them.
The exhibition starts with many of the earliest works, religious paintings. Here, even the frames have stories to tell. Some are as valuable as the paintings they contain. There are gilded baroque frames full of drama and reflecting light on to their paintings, such as the one surrounding a copy of the 14th century Annunziata fresco from Florence.
"By the 17th century it had become one of the most copied paintings because she was believed to be miraculous. Lorenzo de Medici brought every guest to the city to meet her and asked her advice on every big political decision he made. These images of the Virgin Mary were seen as conduits to the real Virgin, and given an elaborate frame because of the power of what it can do," Kisler says.
Greater exposure for the collections can bring insights as to what is in them. Two soldier saints painted on board from the Sir George Grey collection were identified as being by Gerolamo Giovenone and belonging on either side of an altarpiece to St Ambrose in Milan.
"We didn't know that until we got a letter from the Bishop of Milan in 1998 asking to borrow them. We thought they might have been from George and the dragon.
"Unfortunately they are so fragile we could not send them back, but I do include an image of Ambrose in the book."
We move into what Kisler calls her "actress and bishop" room, where the paintings give glimpses into the politics, mores and daily life of the 17th and 18th centuries.
"What I like is Louise de Keroualle was a mistress of King Charles II. She had a mock marriage with him, and this is a marriage portrait with her hand under water. The English always thought she had been sent over as a spy by King Louis XIV. The painting from the 1670s by Henri Gascard has the Frenchwoman with curls framing her face, a hairstyle called the hurluburlu first recorded in Paris in 1671, and which she is credited with bringing to England. The minute she arrived women started cutting off their fringes."
The royal theme continues with a self-portrait by Jan Baptist Gaspers, holding his engraving of Charles II. On the other side and on display for the first time is a pastel of Margaret Hughes by an artist in Sir Peter Lely's studio - it has the same pose as one of Lely's paintings of her. Considered the first professional actress on the English stage, Hughes was the mistress of Prince Rupert of the Rhine who was Charles II's second cousin.
Lely introduced the idea of painting women in their boudoir costumes, in contrast to the bodice and stays restraining the king's mistress. Kisler says being painted by Lely became popular among aristocratic women. "Women who could afford it would grind up pearls to make their breasts shiny and use cochineal to pinken their nipples."
A portrait of Oliver Cromwell is included as he was the protectorate between Charles I and II.
As Kisler moves from painting to painting, details leap out - the influence of Titian on a portrait of a young man by Dutch artist Antonus Mor, who ended up in the court of Phillip II of Spain, a big Titian collector. A portrait of 2-year-old Johanna Katharina Steiger, attributed to Swiss artist Albrecht Kauw, includes a parrot, which Auckland Zoo identified for Kisler as a South American blue-crown conure. "They were easy to teach to talk so they became a symbol of education. That makes it interesting because this is a portrait of a girl, and it was usually the boys who were educated."
Genre paintings show how the lives of ordinary people started making their way into art. Pieter Brueghel the Younger's Village Fair, one of the gems of the McKelvie collection, is a source of constant discovery. "It's ostensibly in honour of St Hubert and St Anthony, but hardly anyone is paying attention to the religious procession. There's someone lying on the ground with chickens picking at his vomit, there's people peeing, there is a play going on which we know is the Trick Water Farce; it's the poor having their moment of fun."
There is a room of landscapes, a room of plants and flowers, layered with allegory and metaphor for art historians to unpick, a room of animals supplemented by cases of bugs and butterflies from Auckland Museum. "I am really interested in the notion of collecting and animal paintings were a particular form that people became passionate about."
John Sartorius' painting of 18th-century champion racehorse Eclipse is there, the New Zealand connection being it was an ancestor of Phar Lap.
Another New Zealand connection is in Two Tigers in a Rocky Landscape, the badly stuffed tigers painted by Sawrey Gilpin and the landscape by William Hodges, who was the artist on James Cook's second voyage.
Kisler makes a connection between Hodges' work and the paintings of Salvator Rosa, who is represented by three works.
"Rosa is very important. When Cook sailed around the South Island, he said he needed Rosa to draw the landscape. He became the model for landscape painting.
"There's a Claude Lorrain from Dunedin in the landscape room, and that's the romantic 17th-century landscape. What Rosa did was introduce drama into the landscape.
"The thing is you never stop learning about this stuff."

Exhibition
What: Angels & Aristocrats: Early European Art in New Zealand Public Collections
Where and when: Auckland Art Gallery, March 23 to June 16