Danielle Wright finds a disciplined army of children under the colourful facade of Chinese lion and dragon dance costumes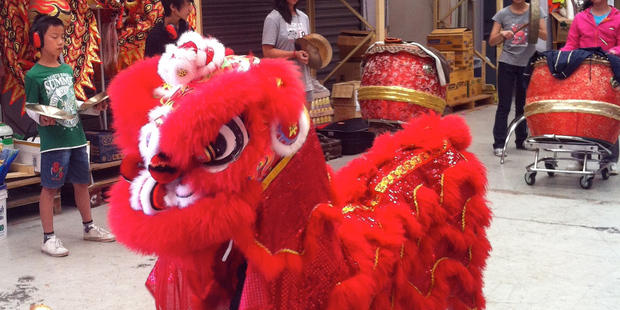 The Chinese lion dance has become a well-known representation of Chinese culture, despite the fact that China has no lions. It's believed to chase away evil and bring good fortune.
During the Manchu dynasty, martial arts were forbidden in China, so the dance was also a way for people to adapt their skills in defiance of the regime, as a martial art-influenced dance form. Performers from the Cantonese operas used it as a way to generate money during downtime in the opera season. There are now lion dance competitions across Asia and beyond, as it evolves into a sport.
If you're not sure whether you're watching a lion or dragon dance, there's a quick test. Two people wear a lion costume, while a dragon costume needs more people and is held on poles.
Anyone can join the E-pacs Dragon and Lion Dance Team, run by East Tamaki businessman Peter Low, but the members I meet are all of Chinese descent and range in age from 5 to 21. The older team members have been with the group for up to 11 years.
"My children were born in New Zealand, they want to assimilate and live the Kiwi lifestyle. Joining the dance team is a way for me to provide them, and myself, with a link to Chinese culture," says Joyce Ng, who has two sons in the group.
It's a hot, sunny day, but the dancers seem happy to be spending their spare time practising for the Lantern Festival, one of many performances throughout the year.
"We do charity events for Hospice, shop openings, weddings, birthdays, house-warmings, cultural festivals and even boat launches," says Joyce's son Timothy, in between games on his iPod. "It's actually really fun."
"These days, children are very good with computers, but perhaps not so good with building muscles and strength in their bodies, as well as the spiritual aspects of education not always taught in schools," explains Peter ( known as "Uncle Peter" by the children).
"If someone is late, they are punished with 20 push-ups. Parents like the discipline of the group," he says. "We are more than a dance group, we also promote five principles."
He asks Sze Meeng, a young dance team leader, to tell me the principles. She rattles them off: responsibility, respect, moral, discipline and family. She says the principles help her not only with the dance team, but also in her life.
I'm taken over to the warehouse to watch an impressive rehearsal, every drumstick in perfect rhythm. The baby lion costume, quite Christmassy with its bright red sequins and fake fur, is worn by two of the younger members, who dance precisely to the beat of cymbals, drums and gongs.
The baby lion comes to life with acrobatics and jerky movements, little jumps with ears and mouth flapping. The dance tells the story of a lion who finds some food, looks around, smells the food, eats it and then becomes joyful with a full belly, before falling asleep and dreaming.
It's enchanting.
Before the rehearsal, Peter stands at the front of the room, with the children lined up as if in an army. He screams with all his might at them: "Stand like a tree. Sit like a bell. Sleep like a bow. Walk like the wind."
They respond, with straight postures and concentrated faces. Moments before, they were slouching and ambling around the room. It's quite a transformation.
"These principles are about posture, about standing firm and strong and straight, as well as about chi, the energy of a person," says Peter.
"We teach lion dance but also our values. A team member has to earn their right to perform," says Peter. "This is our Asian culture."

• Auckland Lantern Festival Lantern Only Night, Thursday 21 February, 7pm - 10.30pm. Enjoy the beauty of hundreds of lanterns in Albert Park prior to the full festival.
• Main Auckland Lantern Festival, Friday 22 to Sunday 24 February, 5-10.30pm.
• Performances, crafts, food stalls, the gorgeous illumination of Albert Park, plus events at Queens Wharf, Sky Tower, Auckland Library, Auckland Art Gallery, Lorne St and Khartoum Place. aucklandnz.com/lantern
• The E-pacs Dragon and Lion Dance Team will be performing at the festival.
• Classes meet every Saturday at the E-pacs supermarket, 12 Nandina Ave, East Tamaki, from 1.30-4.30pm. For more information, contact Peter Low on 021 939 631. There's no charge to join.