Auckland Museum's new exhibition The Poisoners displays many poisonous plants and animals. In a four-part series, its experts take a look at the toxic surprises that could be lurking in the backyard, beach or bush - or even the bathroom - this summer. We start with a look at the beach.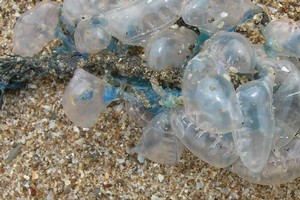 Jaws ruined ocean swimming for thousands of children, but the real risks for New Zealanders braving the water this summer are likely to come from stings, not shark bites.
Auckland Museum's marine invertebrates curator, Wilma Blom, says the toxic marine animals swimmers are most likely to encounter this summer are blue bottles - also known as Portuguese man-of-war - other jellyfish and toxic sea slugs (grey side-gilled slug).
"People can come across these on any of the beaches around New Zealand but the first two are more likely to be found on open coastal beaches after a bit of onshore wind.
"The sea slug can be found anywhere, but it's not likely to be found in high numbers."
All jellyfish and their relatives have stinging cells, called nematocysts, which are filled with toxins used to capture prey.
These cells are found on the bodies and tentacles of the animals, and if touched they discharge their toxic contents.
"Some, such as the larger blue bottles, have enough oomph to be able to penetrate skin and they can be very painful, even fatal in severe cases," Dr Blom said.
"The others will still hurt if the toxin is on your fingers and you rub the sensitive skin on your face."
Blue bottles are identifiableby their large, bright blue flotation bladder.
"The simplest advice is to stay clear of them, even if they're dead. If you do come into contact with them rinse the affected area with warm water, not vinegar, and if you get any of the more serious symptoms like vomiting, headaches or difficulty breathing, go straight to the doctor."
Recent research suggests that not all toxic sea slugs are deadly, and that there may be some seasonality to the toxicity, but Dr Blom says all should be treated as potentially deadly.
"As we saw last summer these sea slugs have the potential to make people very sick and they can be fatal. Watch small children and animals and if you suspect even a small amount of a sea slug has been ingested assume the worst and seek medical assistance."
How to treat stings
* Jellyfish and their relatives discharge nematocysts or stinging cells filled with toxins.
* Apart from the pain they cause, if the stinging cells penetrate your skin, they can lead to nausea, vomiting, headache, chills, breathing difficulties, cardiovascular problems and even death.
* In the case of a sting, avoid rubbing the area and limit physical activity, as it can intensify the release of cells and the circulation of venom.
* Do not apply vinegar - it is likely to make it worse. Instead, rinse with warm water and seek medical assistance in the case of any of the more serious symptoms such as vomiting or breathing difficulties.