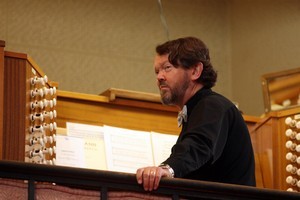 A recent CD of the March concert that marked the official opening of the Auckland Town Hall's newly rebuilt Klais organ is a reminder of how much this magnificent instrument has been incorporated into the city's musical life.
City organist John Wells is "happy to take the credit for the idea of a new organ, but it was a massive effort with very good people behind us".
It was a matter of turning around what Wells describes as "the radical mistake", 40 years ago, of trying to turn it into a Baroque organ.
"It was underpowered," Wells explains.
"The instrument didn't drive the room and didn't fulfil the purposes that the hall was built for. For 30 years, conductors had been asking our organists, 'Have you got any more?', like something out of Oliver Twist."
Times have changed. One need no longer look askance at what Wells describes as the "warm, orchestral sound of the 19th-century organ".
Auckland Philharmonia Orchestra has been quick to feature the new instrument, scheduling Poulenc and Saint-Saens with English organist Thomas Trotter; Wells himself has given two performances of his own Organ Concerto and, next April, Robert Costin gives us a Guilmant Symphony.
"The big question is when is the NZSO going to get on to it," Wells says.
A recent recital by the flamboyant American organist Carlo Curley reminded Wells of how much Curley's teacher, Virgil Fox, did to shatter some people's preconceptions of the instrument.
Wells remembers how a Fox performance that he caught in Indiana "wasn't a churchy, organy thing, but just a concert that happened to be played on an organ. It was very refreshing".
"People don't associate the organ with vibrant, rhythmic and melodic music that will grab them like a Beethoven Symphony," he adds drily.
"They like to put it in a box and marginalise it; we want to break through that and say, 'Hey guys, we're human beings like the rest of you'."
Wells is concerned that "people don't like organ music as much as organ sounds".
He points to the French composer Lefebure-Wely, whose organ pieces are "bouncy, jolly and fairgroundish, going counter to people's images of organ music as something that's slow or grand".
Yet the truth is, Wells confesses, slow and grand is not enough.
"You do something grand for a minute-and-a-half and people can get bored."
Next Sunday sees Wells' first recital on the new town hall instrument.
"I may have had my moment of glory in the inaugural concert," he laughs, "but I've got something to live up to with all the fine organists we have had since. Works chosen for this free event will appeal to a wide cross-section of audience and use the colours of the organ in a big way."
After a Buxtehude offering, five haiku-like pieces by the Japanese composer Tadashi Yamanouchi will use Wells' celebrated koauau stop as a substitute for the shakuhachi stop that organbuilder Philipp Klais added to the Kyoto town hall instrument.
"Ears will tingle. After a rip-roaring piece of Liszt, the Variations on Weinen Klagen Sorgen Zagen, that everybody can sit back and bathe in, there's a little bit of candy floss in one of my favourite party pieces - Vierne's Naiades."
Cesar Franck ("lots of lovely melodies and plenty of oomph") is followed by Leo Sowerby ("very cute and very romantic") leading to a Batiste Offertoire with "all sorts of over-the-top effects".
"If we don't have a fairly broad appeal and use the organ to its max, then we're throwing away an opportunity. We can even do silly things if you want," he adds, putting the instrument's 100-decibel potential alongside the 80 that OSH suggests as the limit for the factory floor.
"It's wonderful for those apocalyptic moments, but you have to be very judicious."
What: John Wells Organ Recital
Where and when: Auckland Town Hall, December 5 at 2.30pm
On disc: Auckland Town Hall Organ: Inaugural Concert (Atoll, through Ode Records)