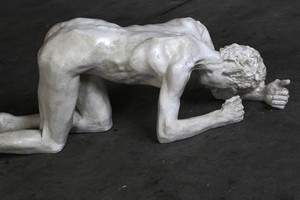 Crawling Man by Sam Harrison. Photo / Paul Estcourt
This is a week shared between sculpture and photography. It is good to see a young sculptor make an impact with important new work. Sam Harrison has shown single works in shows at the Jensen Gallery before but this time he has the space to himself. It is a courageous exhibition in that it is figurative with many traditional features. The surfaces of his standing, lying and crawling figures convey the play of light over bony structures in a way that recalls the work of Rodin and the early work of Greer Twiss. This is consistent with their modelling in plaster, although the lively handling would carry over if they were cast in bronze.
Most striking is a tall, free-standing, life-size figure called Vincent. The face is obviously a portrait and its level glance and hooked nose convey a sense of character, so the head and shoulders would work well as a bust. Yet its real force lies in the handling of the naked torso. It is in no way idealised. The body is emaciated, with all the bony structure apparent but distorted by age and debilitation.
This is contrasted by the assertiveness of the genitals and the large, heavily veined feet. Light plays restlessly over the body, giving it a nervy life and energy.
This remarkable work is matched by two others, which rest on the floor. Crawling Man is equally restless, with a touching pathos. Chloe is a pregnant woman lying flat on her back, which makes a landscape of her belly and breasts.
The only problem is their interaction with the floor. The crawling man's right arm is flat where it is in contact with the floor, and the back of the woman's head is an unresolved area.
The sculpture of Bing Dawe at Jane Sanders Art Agent is of a totally different order. He concerns himself in an oblique way with environmental issues by celebrating the colour, markings and character of well known and obscure species of fish from the Canterbury region.
Sculptures are the major works in this show, although they are accompanied by a number of paintings of the fish. Two of the major three-dimensional pieces show the fish mounted on the top of sturdy cabinets that are characteristic of Dawes' work. The fish are held in a steel crutch and the exactness of their carving and painting is displayed in a way that emphasises their mottled colour, their character and their smooth, wet and floppy nature.
The deftly carpentered cabinets suggest a number of things - a trap or a display - and with rhythmic lines that indicate the movement of water, the habitat of the animals.
Water and the magic of the variety of species is also indicated by the constant presence in both drawings and sculpture of divining rods. The exhibition is called Dowsing and Divining. The cleft stick motif is a design element and something the fish themselves seem aware of. It becomes a magic ring above a beautifully carved and painted Stargazer, a curious bottom-dwelling fish with eyes on the top of its head.
It all makes a very honest, caring exhibition with a special quality that Dawe has made his own over a long career.
Two photography exhibitions also offer a strong contrast, although they both explore dark places.
Joyce Campbell at Two Rooms uses black and white photography to suggest how the presence of rushing water between steep cliffs with overhanging vegetation can conjure the myth of the taniwha - here, a she monster inhabiting the dark places.
It is often the case that photography is better in a book than on the wall. This is not the case here. Large prints of coiling eels give weight to the feeling of a monster in the dark. They need their considerable size to be effective. The glint of a large eye is important.
Upstairs, where the show continues, is a series of daguerrotypes in cases. The nature of the images in this early 19th-century photographic process is that they emerge only when seen obliquely. This adds to the sense of mystery.
The rest of the images are highly competent and the print quality is excellent. Individually they do not have a special quality but combined they are powerful. Everything conveys a real sense of a presence in the bush and turbulent stream, and has a strong documentary quality emphasised by the use of black and white.
The sequence called I Want Something Terrible to Happen, by Jennifer Mason at Orexart, is colour photography. Each of these carefully crafted prints suggests a dark night of the soul within family relationships. They have the quality of illustrations to a story or stills from a tense film.
In Parents, contrasts between dark and light make the dramatic point typically, where there is a confrontation between husband and wife in a bright modern kitchen while a girl in pyjamas listens in the dark of a nearby stair. It is the subtext, the hints of terrible underlying tensions and resentments, that make these carefully choreographed photographs so telling - but there is naught here for comfort.
Curious and confrontational explorations of form, colour and light have powerful effects
AT THE GALLERIES
What: New Sculpture by Sam Harrison
Where and when: Jensen Gallery, cnr McColl and Roxburgh Sts, to December 18
TJ says: Unfashionable figure sculpture of considerable power by a new artist on the scene, who also does impressive woodcuts.
What: Dowsing and Divining, by Bing Dawe
Where and when: Jane Sanders Art, cnr Shortland and Queen Sts, to December 11
TJ says: Exploration of the colour and forms of the small, strange and overlooked fish of Canterbury and the water that they and we rely on.
What: Te Taniwha by Joyce Campbell
Where and when: Two Rooms, 16 Putiki St, Newton, to December 23
TJ says: A massive, compelling exploration in black and white film and photography of the land, historical sites and myths of Te Urewera.
What: I Want Something Terrible to Happen, by Jennifer Mason
Where and when: Orexart, Upper Khartoum Place, to December 4
TJ says: Colour photographs that explore the tensions that never appear in conventional family snapshots.