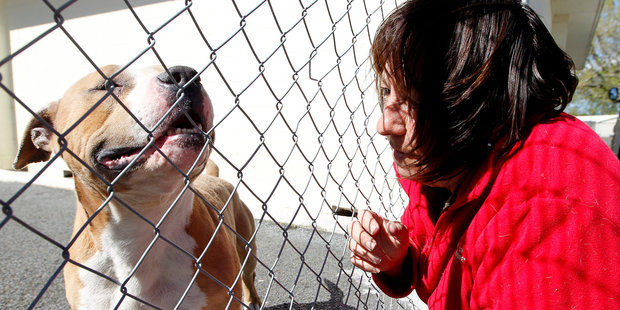 A Tokoroa dog on death row for more than two years with a bill nearing $80,000 in upkeep and legal costs has been sentenced to death.
Jimbo, an American staffordshire, has been in custody since November 2010 after he tore into a hutch and mauled a young girl's rabbits in Tokoroa, killing one of them.
While he was locked up in a Tokoroa dog pound, Jimbo is then alleged to have savaged a pitbull cross.
Yesterday at the Tokoroa District Court his owner Carolyn King and the South Waikato District Council continued their battle over his fate in the ongoing saga where she was found guilty under the Dog Control Act over the rabbit attack.
Mrs King and the South Waikato District Council reached an agreement where she would pay $2000 towards his sustenance costs.
The South Waikato District Council provided figures for the Herald showing the dog's incarceration and his ongoing legal battle had cost nearly $77,000. Of that, nearly $6000 was needed for the dog's daily sustenance.
Mrs King's lawyer, Scott Ngapo-Lipscombe, said Mrs King was "upset and disappointed" with the decision. He said she was resigned to his fate and was unlikely to use the 30 days she is allowed to appeal the decision before the council can legally have the dog destroyed.
"This was a champion show dog and she had a certificate to prove it," said Mr Ngapo-Lipscombe.
"But having been in a pound for more than two years it really has deteriorated and from her point of view the pound has done quite an appalling job of looking after her dog."
Mrs King had earlier been convicted under the Dog Control Act over both incidents and Jimbo was sentenced to death but last year her convictions were quashed - and her pet's life saved - when she appealed to the High Court and won.
The High Court agreed with a District Court finding that the dog represented a high level of risk and should be destroyed but neither could issue an order to destroy the dog as Ms King had not committed an offence.
South Waikato District Council chief executive David Hall said the council was concerned about the public's safety and he was convinced the dog would offend again if released.
"This dog attacked and killed another person's pet and subsequently attacked another dog, very nearly killing it, while in the pound," he said. "We believe that, if released, it will almost certainly attack again. This is not a risk we as a council are prepared to take."
Jimbo limbo over
Legal costs : $67,503.09
Vet costs: $1502.80
Food (recommend by vet for long-term stay): $732
Sustenance charge $7.20 per day for 808 days: $5817.60
Lawyers fees: $1000 plus GST
Grand total: $76,705.49
Source: South Waikato District Council