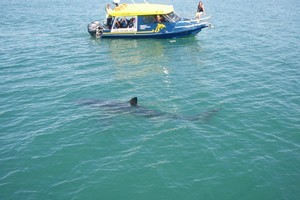 A great white shark has been sighted cruising past jetskiers, banana boats and children on sea biscuits in the Coromandel Peninsula.
A fisherman says people looked like bait next to it, and a 125kg marlin he caught could not compare.
"It was the biggest animal I've ever seen outside of a zoo," said Kane Hill, who saw the shark in 6m-deep water just off Whitianga beaches this week.
The shark was almost as big as an 8m glass-bottomed boat it swam past. Mr Hill estimated it could have been as long as 7m. "It was really mammoth. Absolutely phenomenal."
Friends did not believe him until he showed them photos, he said.
"These stories are often embellished, but you can't embellish this one.
"This creature is just too big."
His father, Craig Hill, was also on their 6.7m aluminium-hulled fishing boat when the shark appeared. "It was pretty unique. Books will be written about it," the older Mr Hill said.
A kayaker and many others enjoyed holiday activities in the shark's path, but the great white ignored them all and cruised through the bay.
"If it was interested in something there, I'm sure we would be reading a very different story.
"It wasn't in a feeding frenzy - then you start getting worried," Mr Hill said.
He was mesmerised by the impressive sight before calling the coastguard.
"We were just trying to come up with a game plan.
"With something like this, who do you call?"
Glass Bottom Boat owner Shane Harnett said it was his first encounter with a great white in eight years of operation.
Department of Conservation shark expert Clinton Duffy said the shark was probably on its way back to summer feeding grounds around Stewart Island after spending winter in the tropics.
Mr Duffy is involved in tagging and tracking great whites and is keen to hear about any sightings of them. In 2000, a great white shark followed boats into shore off Maketu, in the Bay of Plenty, prompting warnings to divers, swimmers and boaties.
The 5m shark lingered in the Bay of Plenty for several weeks, and locals took to calling it "Brutus".

SIGHTINGS
Great white sightings can be reported to sharks@doc.govt.nz or to 0800 362468.
- Additional reporting: NZPA