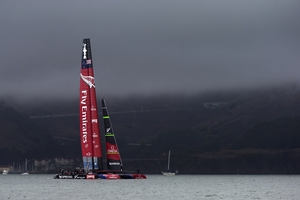 This is the song that never ends.
It just goes on and on my friends.
Some people started singing it not knowing what it was,
And they'll continue singing it forever just because . . .
- The Song That Never Ends, Norman Martin, 1988
My daughters sang this when they were small and "it just goes on and on, my friends", just like the 34th America's Cup.
Today will make this officially the equal longest America's Cup match in its history (162 years). You will forgive me (after all, I am being paid to be here for weeks in a city I enjoy, covering an event I greatly enjoy) if I express a wee bit of frustration that this regatta now feels like all 162 years are happening at once with the postponement of Race 14 yesterday.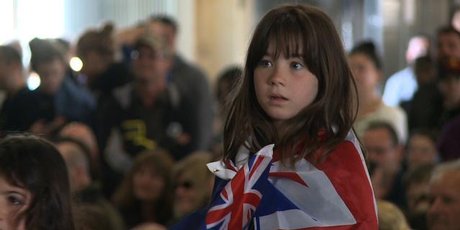 And before you have a crack at me about sour grapes because Team New Zealand haven't won yet, that's not it.
If Emirates Team NZ are lucky enough to win this prestigious sporting trophy (that's if it hasn't rusted away by the time we all finish...), they need to make sure that racing happens more - much more - than non-racing in Auckland.
Delay isn't sport - apart from cricket, of course. Sport is also conducted when conditions are less than optimum. It's part of the drama.
Consider these scenarios/potential headlines: Hillary waits for snow to melt before climbing Everest; Snell drops out of the Tokyo Olympics because the wind is blowing in the wrong direction; Colin Meads refuses to play after someone hit him.
Delays for wind and weather are common in yachting, of course; there are obvious safety parameters that have to be met and unavoidable postponements. In the last America's Cup staged in Auckland in 2003, there was something like 10 days in a row lost to wind or, more accurately, lack of it.
There's nothing anyone can do about that (short of installing giant fans on the Tank Farm) but to my mind the America's Cup match could have seen the boats race far more than they have.
Oh, I know, I know... Andrew "Bart" Simpson died in Artemis' capsize in May and safety measures were put in place following that. The teams - after a bit of pushing and shoving - agreed.
That was May - but an awful lot of water has flowed under the Golden Gate Bridge since then. The teams have learned to sail the boats stably and well, though pointing to the near-capsize of the New Zealand boat is all the proponents of the status quo probably need to do to win that argument.
But there is a balance to be achieved here. Whatever you think of Larry Ellison's and Russell Coutts' regatta, they had a goal with which most of us can identify and agree - to lift sailing's profile by attracting more audiences (and thus more sponsors, etc) to the sport by making it more attractive.
There's nothing attractive about nothing happening in place of sport.
What's been needed here is either a bit of commonsense or a change in the rules - admittedly impossible to do while a regatta is on and being run under rules that need universal approval before any changes can be made. A new regatta can take care of some of these unnecessary delays.
First, we had too much wind. Then we had too little wind - or, more correctly, so little wind that the AC72s catamarans dragged their backsides too slowly round the course. The wind was blowing nine knots, the big cats touched over 20 knots on occasions - but they were too slow to complete the course in the required 40 minutes. That's at nine knots, not the minimum wind speed of five knots permitted for a race to start. Something is very wrong here.
Then yesterday the wind blew in the wrong direction. The teams didn't want to flip the course - which is what happens in other regattas where the wind changes direction - as they haven't trained for that and also because rearranging the course would have necessitated taking it further offshore.
So spectators wouldn't have been able to see the race. See what? There wasn't any race.
If, indeed, this is to be sailing for the new age, we need some new rules and, safety included, some control vested somewhere where decisions are binding on both teams and ancillary participants like TV. If not, the fans who have been drawn into the real drama and colour of the America's Cup will drift off again to do something else. Anything else.