What are you doing to support the All Whites? Share your photos and videos here.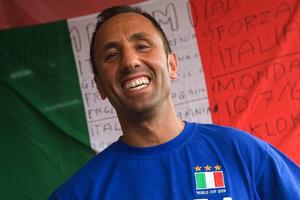 Upset Italy soccer fans say their millionaire World Cup champion stars failed to justify their hefty paycheques in a shock 1-1 draw with the All Whites overnight.
Italy fans in Auckland flocked to Gina's Pizza and Pasta bar on Symonds St, which started to fill up yesterday evening seven hours before kickoff and did not close until 5am.
"Italian people are very, very upset, not just here but in Italy," said owner Alessandro Fantoni.
"When you think how much money they [the Italian players] make, there must be a difference with other people.
"Last night we didn't see that difference."
The restaurant was heaving with about 150 people - including 40 Kiwis - with the restaurant staff making pizzas all night long, Mr Fantoni said.
He said everyone showed "beautiful" respect for all competitors, with chants and applause going both ways.
Mr Fantoni was also diplomatic when asked about an alleged offside leading to Shane Smeltz's early goal.
"I think Italy, for the way they played, they deserved it," Mr Fantoni said.
"New Zealand showed to all the rest of the world that you don't need to be paid millions to play soccer."
But Mr Fantoni had seen headlines from Italian media which he described - perhaps mildly - as "very disappointed".
"Half of Italy is against the Italian [team]," he said.
Mr Fantoni still picked Italy to reach the finals - if they get through pool play.
But he predicted an English win. "Remember, they have an Italian coach", Mr Fantoni said.
"The Romans conquer the war with English warriors."
According to Radio New Zealand, headlines in Italy included:
"Indigestible Kiwis for Italy" (Corriere della Sera), "Italy flop" (La Gazzetta dello Sport) and "Italy mocked - only a tie against New Zealand" (Il Secolo).
Fifa's official match report said the match was "the biggest shock so far in South Africa".
New Zealand reportedly has just 25 professional footballers - against Italy's 3541. Amateur players have been included in New Zealand's World Cup squad.