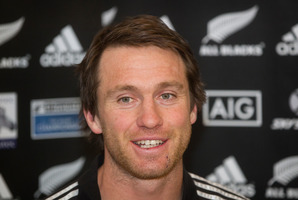 Project Ben Smith, in the best traditions of major initiatives, may take longer to complete than initial forecasts. His conversion to centre, perhaps inevitably, began by throwing up more questions than answers.
No one should be overly surprised. The difficulty of his task is considerable - made all the harder by the excellence of the Wallabies in attacking Smith's channel.
Tevita Kuridrani was a constant menace and Israel Folau was injected to good effect. It was a baptism of fire for Smith in terms of his defensive chores. The runners came inside and out, they twisted him, turned him and left him scrambling at times.
His difficulties got more severe as fatigue set in. He tended to drift laterally when he was tired making himself vulnerable to runners tracking back on the inside.
He held on, though. Managed to check himself when his instincts took him in the wrong direction.
He clutched and scragged and the dam never broke.
He earned a pass mark, which in the context of asking a wing to play centre at that level was good. But it wasn't so good in the context of him having been the form player of the Rugby Championship - the entire season no less.
"I knew there would be some learning out of the game and there were," he said. "I knew that defence was going to be a work on. It's a lot different to fullback and to the wing. I knew I would make some mistakes. It wasn't too bad. It is now about learning from them."
The coaching team felt much the same way. They got pretty much what they expected and didn't bring Smith in with the expectation of him being an instant success.
They are prepared to be patient in their quest to build an alternative to Conrad Smith. Centre is a role with specific challenges and there is no means of replicating those anywhere other than the field.
Smith, barring injury, will line up against France at centre and probably then England and Ireland as well. He may even be taken to Japan, given the need to school him in his new role.