Home visit clue to character of flinty, 80-test hooker nearing end of professional career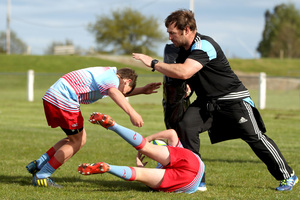 Never one to court the camera, Andrew Hore is standing at the top of his family's Maniototo farm, Stonehenge. It is a big farm, 8000-odd hectares originally purchased in 1910 and home to the Hore family ever since. It's been made even bigger by the recent purchase of the neighbouring Patearoa Station, adding another 5000ha of Central Otago countryside to the spread. Enough room, Hore says, to "make sure you can keep away from each other's wives".
It's typical Hore. His is the driest of humours, windblown and sun-parched and very much unconcerned with jokes that require a drum roll or a laugh track. You either get him or you don't, but you should never take offence. None is intended. Well, some of it might be, but grow-a-set-and-deal-with-it is probably the best advice.
The sun has just begun to crest "the tops", the craggy and snow-blistered natural boundary from which the Hore farm cascades in stone and tussock down into the Maniototo Valley. The cameraman follows a solitary stock truck up the gravel road, kicking up dust in the dawn, the only sound of any significance.
Hore lets the truck pass, turns to the camera and with perfect, sardonic timing and economy of language, utters two words: "Busy town."
So much said, with such little effort.
The night before, we had been invited to stay at Sue and Jim Hore's house. Well, possibly Andrew informed Sue that we were going to be staying there, but regardless, the hospitality was welcoming and warm, the beds were comfortable, the homestead rambling and wonderful, and filled with the memories of generations past. Breakfast was served at 6am. Eggs and sausage with homemade apricot sauce. The day was a busy one for the workers.
There was no pretence in the patois. Conversation centred on the day's schedule. Sue eased about the kitchen feeding anyone who arrived, making more coffee. Andrew eased into a chair and hoovered a plate of food. Tony Woodcock, Hore's great mate, eased in next to him. The only one who didn't ease into or around anything was Jim. Jim kind of hurried and stomped and rattled.
There is no doubting Andrew Hore's lineage. He and his father are cut from the same cloth, carved from the same Central Otago stone. Andrew's work ethic comes from his father, as does his humour, his fondness for a beer, and his passion for footy, and the country boy esprit that has for so long served to set Hore at odds with the modern notion of the professional rugby player.
They're both stubborn men too, but not in the pejorative sense. They have a way they like things done, and will be only too happy to change if you can prove to them they should. They're old dogs in an age of new tricks, but unlike the proverbial pooch, they would be happy to learn. That is, if you had anything valuable to teach.
Hore looks comfortable here. Not for him the baubles of Bordeaux or the trappings of Toulon. Here is where he is at his best. Or there, on the field in an All Blacks jersey, again avoiding the cameras, making turnover plays with greater efficiency than any other international hooker, burying his head in rucks, packing scrums against the world's best, and all the while chirping away and filling the referee's microphone with a constant stream of one-liners. There, where he has for so long kept his good mate Keven Mealamu honest (and vice versa). There, where he is now working to make Dane Coles a better player. He's not sanding off Coles' rough edges. He's adding them.
Inevitably though, here comes the question of how much this Flintstonian figure has left to give. With 81 tests and 35 years on the clock, it seems Hore is preparing to put himself out to pasture. At least, I suppose, it will be his pasture. The Highlanders, like the Hurricanes, have said no more and eventually the curtain will also come down on his All Blacks career, too.
And how will he be remembered, when he finally hangs up the boots? Probably not very fondly by some - especially those who take themselves far too seriously. But for most he should be remembered as a hard-grafting bloke who did the work, and did it his way, and was capped more than 80 times for his country because he was a damn fine player.
And he will be remembered for the rough edges, which aren't much celebrated these days. Though they are on the cold field at the Offal Pit, where the Maniototo Maggots play footy - and keep away from each other's wives.
The Rise of the South
All nine South Island provinces will be in semifinal action this weekend. Canterbury feature in the Premiership; Tasman, Otago and Southland in the Championship; Mid Canterbury, West Coast and North Otago in the Meads Cup; and South Canterbury and Buller in the Lochore Cup. Not a bad return for the mainlanders, but imagine this: the Crusaders region could make it a clean sweep with Tasman, Canterbury, Mid Canterbury and South Canterbury all title favourites.
Golden Boots
The kid from Kurow (well, the other one), Hayden Parker, has his sights set on his coach Tony Brown's all-time provincial season points scoring record. Brown set the mark in 1998 when he scored 196 points for Otago, and his protégé leads all scorers this year with 161, with a possible two games remaining. Meanwhile, in what is shaping as possibly the most impressive debut season in the history of ITM Cup, Marty Banks has posted a Tasman record 130 points, in just six games. He has now posted three of the union's top four highest individual match hauls, including the record-setting 28 against Northland. Banks last year set the all-time season record for Buller.
He's got gas
Earle Kirton was fond of the word gas, but it seems referees were a little less enamoured with the other kind of gas during the career of Otago All Black Sandy Paterson. Paterson played just five tests for the All Blacks - his first in 1908 against the Lions and his last in 1910 against Australia. Apart from being a hard-working forward who was fond of rucking opponents, Paterson, according to his grand-niece, was famous for one fact, and one fact only: he remains the only All Black to be penalised for flatulence at scrum time. We only bring it up because the Nude Blacks are in action tomorrow at the Alhambra-Union grounds, and the referee will not tolerate this sort of behaviour.