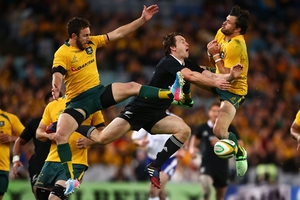 There was no gloating in the All Blacks, no submission from the Wallabies.
Rugby reality was on show in Sydney, though, with the All Black cohesion too strong for the hope and bristling optimism of a new wave of Wallaby work under Ewen McKenzie.
One crunchy black performance delivered some sanity to the populist thoughts of a new Wallaby golden era. And there is the promise of more after their 100th test win against Australia.
Laced through every comment from the All Blacks and staff after the victory were words about recovery and improvement. Six tries to two in a 47-29 victory was convincing.
Round one was a TKO to the All Blacks but the Wellington rematch on Saturday offers another scrappers' chance to the Wallabies to level the series. They will need to tolerate pressure far better if they are to overturn the form guide.
There are areas where the All Blacks have more wriggle room to develop than their rivals. Much of test rugby is about coping with the mental content and a range of hurdles which develop. The All Blacks dealt with most of those. The Wallabies knocked the rails down regularly.
"We were level-pegging for some time in the game but you have got to respect possession," McKenzie said. "We did not control the ball and they were able to play and do some of the things they are good at and you pay a price for that."
That lack of detail was manna for the All Blacks, who sent Ben Smith to the line three times and Richie McCaw once down the uncertain defensive channel of James O'Connor on the wing.
The Wallabies thought they might have a crack through the middle then profit from some width with Israel Folau and O'Connor. Instead, the All Blacks nabbed vital possession and turnovers and aimed at those areas.
New face Steven Luatua received huge raps from coach Steve Hansen after a late injury call-up.
Captain Richie McCaw had reiterated his class on his comeback as had Aaron Cruden at five-eighths, while Ma'a Nonu was a rock in midfield despite an ankle problem.
The only injury worry was lock Luke Romano, who hurt his groin and will be assessed further this week.
The Wallabies were a strong combative side near the top rankings in the world. "But at the moment we just seem to have a wee bit more luck against them than they do against us," said Hansen.
That low-level reaction to the victory was typical of the All Blacks. Across the board they were not going to budge from that humble, more-needs-to-be-done approach until the Bledisloe Cup was back at HQ.
Complacency after just one Rugby Championship match would not do.
"One of the strengths of All Black teams in history, not just this one, is they are very good at looking at what they did not do well," said Hansen.
"When we reflect on this game we will do that and look at the stuff we need to fix up and get better at it - and there is quite a bit just from a gut feeling and what I saw.
"We did a lot of things great but there is still some stuff we have to tidy up. That's what we will focus on as well as the good stuff.
"Our leaders are very important in this area. They will drive the team and it is one thing to be a winning team but you have to be humble and keep your feet on the floor because you want to win again next week.
"We haven't done anything yet, we have only done a small part of the job and until we win two, we don't own it [the Bledisloe Cup]."
Bledisloe beatdowns
Most points conceded by the Wallabies in Bledisloe Cup encounters
2003: All Blacks 50 Wallabies 21
2010: All Blacks 49 Wallabies 28
2013: All Blacks 47 Wallabies 29
1996: All Blacks 43 Wallabies 6
2000: All Blacks 39 Wallabies 35