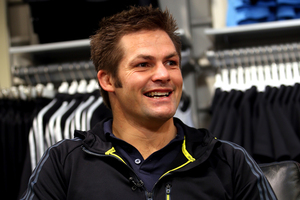 The strangest thing Richie McCaw discovered during his break from the treadmill of almost never-ending rugby over more than a decade are the aches and pains he suffered from not training.
Like a professional cyclist who gets sore legs after a day or two away from the bike, McCaw's body has become so fit and attuned to the crash and bash of the modern game that there was no instant boost once the boots were put away. Apart from his body not being stiff and sore on a Sunday from the damage incurred the night before, he didn't feel too different at all.
In fact, his back was beginning to ache and creak from the relative inactivity, something he was keen to put right by stepping up his running and cycling routines.
"I took a bit of time out over Christmas when I didn't do a lot, but you actually feel a little worse when you don't do anything. From then on I kept up a bit of running and biking and not too many days went past when I didn't do something.
Then you start to feel better. That's the key, to keep things ticking over and it's become a lot easier now. It's amazing how your body adapts to being bashed around. I haven't missed being stiff and sore on Sunday mornings but ...
"People say it must be great, you must be feeling good, well, I don't actually feel that different, I think it's more ... that I'm not on the old rollercoaster each week."
His last match was the All Blacks' defeat by England at Twickenham in December. Since then he has skied in Canada and France, travelled around the United States and Italy, and visited friends in the United Kingdom. On the way back to New Zealand he stopped over in Sri Lanka and Hong Kong.
After being constrained for so long by the straitjacket of rugby routines and responsibilities, McCaw enjoyed the anonymity and flexibility his sabbatical provided.
"To walk into a bar or restaurant and for no one to give you a second look was actually really nice. I really enjoyed that. That was the bit that was really refreshing - not to say it was bad or anything, but after a while the constant stuff here got on top of you. But you come back and you realise it's not that big a deal at all, really. We're pretty lucky in a country like this, people are pretty good."
McCaw's next match is likely to be for his Christchurch club in three or four weeks' time, a step back on the rollercoaster which he hopes takes in the next World Cup in England and Wales in 2015. Fitness permitting, he will be available to lead the All Blacks in the Rugby Championship which starts in August.
"I'm in the sixth week of pretty full-on training. I'm starting to feel pretty good. Another five weeks of this and it will be an 11- or 12-week pre-season which I haven't had for years. My aim is to be in better nick than I have in the past couple of years.
"With my foot injury and so on I've always been rushed. I wanted to not only have a break but also have a chance to get myself in good shape, which I have done.
"At the start of 2008 when we had good time off after the World Cup, that was the last chance to get a good bit of running in and get a base there and in the gym."
McCaw and Dan Carter have extended their contracts with adidas until 2016, although when asked if he still planned to be playing in three years' time, McCaw said: "That's a good question. Who knows? Maybe, maybe not."
When asked if his sabbatical would help him last until the next World Cup, he said: "I think I would have struggled had I not taken one. There's no guarantees, though, for a whole lot of reasons and if it's not the right thing ... then I'll have to reassess. But if I have this sort of excitement about playing and I'm doing it well then why not?"
Richie McCaw
32 years old
116 tests
2001 test debut v Ireland in Dublin
2004 debut as All Blacks captain v Wales in Cardiff aged 23
110 matches for Crusaders
34 matches for Canterbury
- APNZ