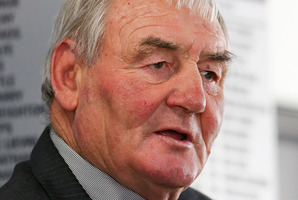 When Wairarapa-Bush Rugby Union vice-president Rex Playle addressed the New Zealand Rugby Union's annual meeting today to nominate Sir Brian Lochore as a life member he summed up the situation perfectly.
"When the matter was raised in Wairarapa circles last year, the common question was not whether BJ [Lochore] was worthy, but rather why he hadn't been named a life member previously," Playle said.
"BJ's contribution to New Zealand rugby over a period of many decades has been immense. The achievements mentioned by the chairman really just being a highlights package."
Playle spoke after NZRU chairman Mike Eagle rattled through some of Sir Brian's greatest hits. It was a highlight reel to be proud of.
Sir Brian played 68 matches for the All Blacks, captaining them in 46. He became an All Blacks selector in 1983, coach in 1985 and guided them to success in the inaugural World Cup in 1987.
He was campaign manager for the All Blacks for the 1995 World Cup, a selector from 2004-2007 and took on a range of other administrative and coaching roles at various levels within the game.
Today's meeting, in Wellington, marked a double cause for celebration for Sir Brian, who was also voted in as the NZRU's patron, a position that had been vacant following the death of Sir Wilson Whineray last year.
"Well it's an honour really," Sir Brian said of the double honour. "You don't expect these sort of things. For me I just set out to be an All Black, it was my ambition as a little fellow and I achieved that; I thought that was enough. But there's been a lot of add-ons since then in various situations in the game and I've enjoyed the whole lot of them and this is a great honour; one that you don't ever expect that you're going to be involved in. And look, if I can do something for New Zealand rugby in my latter years, so be it, I'll try very hard."
The former lock and No 8 said he enjoyed the opportunity to chat with current players but wouldn't actively seek a role with the All Blacks in any capacity.
"I'm a passionate All Black and I like very much to talk to the new All Blacks as long as they want to talk to me, I guess. I'll be happy to talk to them and if that happens, that's great but I won't be going and seeking that sort of thing."
The 72-year-old, who lives in Masterton, said his vision of being the NZRU's patron was about supporting the game at all levels.
"I don't think I'll ever stop doing that. I don't think it's going to change my life a great deal. It means that I've got an official capacity but that wasn't really the reason for accepting the position. I still love the game, I'm a critic, I watch it and I'll try and foster it as much as I can."
- APNZ