Increasing liquor licences boosts offending, study finds, but effect varies between areas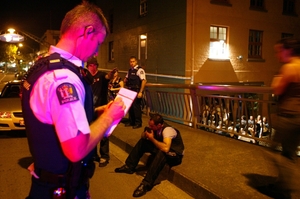 A study has shown the effect that having more liquor outlets has on specific areas, suggesting a one-size-fits-all alcohol policy may not be the solution to curb booze-fuelled violence.
The research by the Health Promotion Agency looked at a variety of outlets, including clubs, bars, nightclubs, supermarkets, grocery stores and other off-licences, measuring the effect they had on violence, disorder and car accidents.
It revealed the effects differed from city to city and even within cities. In East Tamaki, Otara and Otahuhu, for instance, an extra licensed club was associated with four additional violent offences a year.
In relation to bar and nightclub density and violence, each additional outlet resulted in nine to 13 more violent offences in South Auckland compared with four to five more in the eastern suburbs.
"The effect is more than double in South Auckland than east of the central business district," researcher Michael Cameron said.
"We knew a lot of international research had shown widely varying results in terms of the alcohol density relationship and violent crime. But there is very little that says why things would vary so much.
"So, essentially, we've just shown things vary basically across the [North] Island.
"The next step from there is to explore what it is that's different in those areas."
The findings "correlated well with what people are seeing on the ground there".
He thought the research endorsed the need for local variations to meet local alcohol policies under the new Sale and Supply of Alcohol Act.
That act allows councils to develop policies that give communities a say on local issues and allows decision-making for all licence applications.
Alcohol Healthwatch director Rebecca Williams welcomed the findings because "communities had been crying out for controls around this issue for some time" and councils would be unable to ignore the research. "Communities have carried the burden over many years and this is an opportunity to turn the tables a wee bit."
Mrs Williams said some communities in particular needed protections in place. "One of the things we recommend to local councils is to cap the number of outlets in their areas and recommend councils where necessary operate a sinking-lid mechanism, so over time those communities can reduce the level of harm that's happening."
The Mangere-Otahuhu Local Board had a sinking-lid policy, said board member Carrol Elliott. "Unfortunately we cannot retrospectively shut any of them down, because if we could, we would."
She had heard of the damage alcohol was having in the community, including students turning up drunk at a school with a nearby superette that wanted to expand and extend its licence.
"That's why we are very angry," she said.