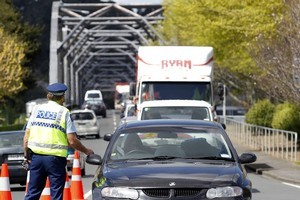 A father was playing Russian roulette with the lives of his four children when he drove drunk with them in his ute on a learner's licence, police say.
The 45-year-old, who has five previous convictions for drink-driving, was caught at a police checkpoint on the outskirts of Huntly at 7.45pm on Wednesday.
He blew 640 micrograms of alcohol per litre of breath. The limit for an adult is 400mcg.
Waikato road policing manager Inspector Leo Tooman said the motorist was indicative of a hard core who seemed to treat driving drunk as a joke.
"Not only was he placing his life and that of other drivers at risk, he was playing Russian roulette with the lives of four children," Mr Tooman said.
"There is this hard core that seems to think that drink-driving offences are little more than a speeding ticket, regardless of the risk they pose to themselves or other members of the public."
It was the second time in four days police found a Waikato parent over the drink-drive limit with children in the car.
On Sunday morning, a 31-year-old woman stopped in Hamilton with three children in the car blew more than three times the limit.
Mr Tooman said any drink-driving incident disturbed him, but one involving children was even more worrying.
"Once you start drinking and driving, your chances of being involved in a serious or fatal crash increase, and those children were put in a situation they had no control over. They probably didn't ask to be there."
Mr Tooman said he thought people had matured since the days of leaving kids in the car while dad went to the pub.
It was not known last night how old the Huntly children were or if they were correctly restrained.
But Mr Tooman said the father also should not have been driving on a learner licence without having a supervisor in the king-cab ute.
The man, who lived 20 minutes out of Huntly, and his children, were picked up by his partner.
He would appear in the Huntly District Court within the next two weeks.
On Monday, Waikato police warned about the increasing number of women driving drunk, although up to 65 per cent of drinking drivers are men.
Overall drink-driving figures are down about 4 per cent this year, but Mr Tooman said that with the Waikato road toll at 41 for 2011 so far, people should be prepared to be stopped and breath-tested by patrol-car officers anywhere and at any time.
"I really think the majority of people see drink-driving as unacceptable," he said.
"What we need to do together is to work towards the situation where it is not okay even for this small minority."
Another checkpoint at the same spot on Tainui Bridge Rd in Huntly yesterday was part of Operation Persil, a district-wide crackdown on crime.