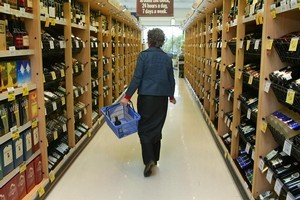 Displaying alcohol in supermarkets should be treated in the same way as dirty movies are displayed in a video store, the Alcohol Reform Bill select committee was told yesterday.
Alcohol Action said the proposals adapted by the Government from a Law Commission report into alcohol reform did not go far enough.
Alcohol should not be easily accessible and should not be displayed at the front of stores or with other products such as fruit and vegetables, the group said yesterday.
"Supermarkets are treating alcohol like it's a commodity rather than a drug," spokeswoman Professor Jennie Connor said.
"It should be treated like dirty movies, they should be in one corner of the supermarket at the back."
The group opposed the continuation of supermarkets being allowed to sell alcohol and said it was not fair for children or those trying not to drink to be constantly exposed to it. The bill, drafted last August, would affect bar hours, off-licence trading, liquor advertising and the purchase age.
Alcohol Action said, in comparing alcohol with other drugs over the harm it caused, that it should be rated as a Class B drug.
The group pointed to an article in the Lancet medical journal that suggested alcohol was the most harmful recreational drug in terms of harm to the user and to others.
Tobacco came in sixth, behind hard drugs such as heroin, crack cocaine and methamphetamine.
About 1000 deaths a year could be attributed to alcohol including vehicle crashes by intoxicated drivers as well as alcohol poisoning, Alcohol Action said.
"I don't think we should give away the chance about doing something about alcohol," Professor Connor said.
The bill, as it was written, would not meet its objectives of changing the culture of heavy drinking in New Zealand, she said.
"The firepower just isn't there."
She supported the Law Commission's findings that the price of alcohol should increase.
"The importance of increasing the price can't be overstated."
All alcoholic drinks should be labelled with their ingredients like food, and health warnings should be displayed on the bottles.
The glamorisation of booze could also be curtailed by banning alcohol companies from sponsoring any events, especially this year's Rugby World Cup, Professor Connor said.
- NZPA