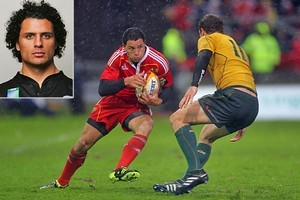 Former All Blacks rugby winger Doug Howlett was arrested by Irish police on suspicion of being drunk and disorderly at his Christmas party night out with his Munster teammates.
Howlett was arrested outside a Kilkenny pub in the early hours of Tuesday morning, the Irish Independent reported.
He had been on a night out with teammates celebrating when police were called at around 1.40am.
Police confirmed a man was arrested for an alleged public order offence involving two other men.
Howlett was taken to Kilkenny police station but was released without charge. He may still face a fine.
It's not the first time Howlett has found himself on the wrong side of the law.
He was also arrested outside Heathrow Airport's Hilton Hotel in London in October 2007, following the All Blacks' World Cup quarterfinal loss to France.
Howlett was penalised by the New Zealand Rugby Union for misbehaviour after he damaged two cars by jumping on them.
Police decided not to prosecute him after he apologised and offered to compensate the owners of the vehicles for the damage caused.
Howlett played 62 tests for the All Blacks from 2000 to 2007, scoring 49 tries.
- NZPA