Research published yesterday claims the kiwifruit vine disease originated in China.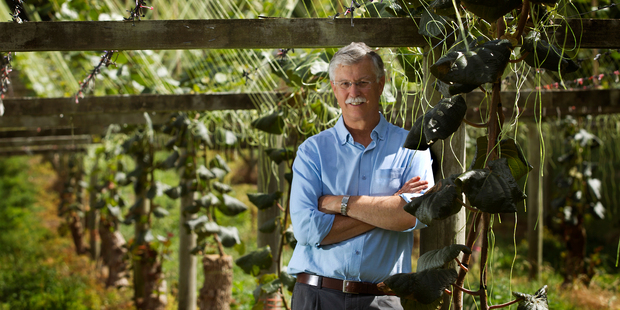 The disease ravaging kiwifruit orchards has already landed a $100 million blow to industry heartland Te Puke, where Psa-V was first discovered in November 2010.
And the president of a growers' group told the Herald the running cost could be double that across the wider Bay of Plenty, home to 1954 of the 2075 orchards so far infected with the disease.
New Zealand Kiwifruit Growers Incorporated president Neil Trebilco said new research published yesterday, claiming the disease originated in China, confirmed what growers had already been advised of.
The outbreak - forecast to eventually cost $885 million with half of that hitting over the next four years - had made "big inroads" into growers' income this selling season, with a wider impact to be felt next season.
"Some growers are going to be worried whether they can survive financially through this or not."
It would be known by November how Gold3 (G3) kiwifruit - a more tolerant variety touted as a new hope - had fared in face of the disease.
The post-harvest sector had also been forced to consolidate and were already competing fiercely for crops and dropping rates for growers, Mr Trebilco said.
Mr Trebilco said support networks for growers had been working well. "You might lose your income, but we don't want to lose anybody over this ... and so far I think we've been pretty good in that regard."
He expected growers would be interested in findings published by Otago University, which mapped the genome of Psa-V back to Chinese origins.
"What it does say is, firstly, it probably didn't get here on fruit, and we had already discounted that.
"It has got here in some other way, but the problem is that because it's a bacterium, someone could have been to China and come back with it - we can't discount clothes and footwear."
The research, published in science journal PLOS ONE, found the Psa strains responsible for outbreaks in Italy in 2008 and Chile in 2010 also came from China.
Study co-author Dr Russell Poulter said the team found that the core genomes of the Chinese, Chilean, Italian and New Zealand strains were almost identical and likely shared a common ancestor around 10 to 15 years ago.
The researchers were also focusing on a type of mobile element they had detected in the Psa genome.
These mobile genetic elements - termed ICE or 'integrative conjugative elements' - could transfer between cells of different bacteria strains and alter properties such as their resistance to antibiotics.
"This means strict border control by kiwifruit producing countries is more important than ever," Dr Poulter said.

The Psa-V crisis
2075 orchards identified with Psa-V.
70 per cent of New Zealand's kiwifruit hectares are on an orchard identified with Psa-V.
99 per cent of kiwifruit hectares in outbreak site Te Puke now have Psa-V.
$885m forecast long-term cost of outbreak, up to $410 million over next four years.
$421.60 maximum threshold for weekly income for a married couple with no children to be eligible for a rural assistance payment for growers.