It was a moment of stupidity that almost cost Greg Watts his life - and made headlines around the world. We meet the man who fell from a motorised bar stool.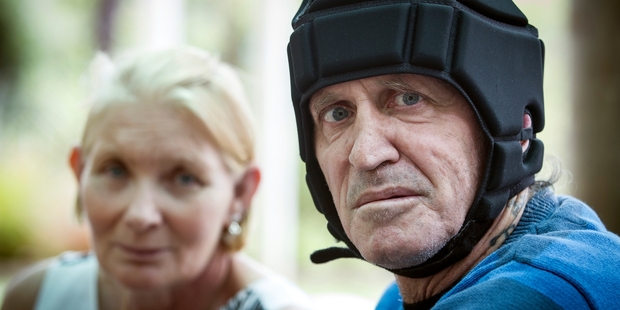 Every morning when Greg Watts wakes up, his eyes settle on the pinboard on the wall at the foot of his bed, on a note telling him where he is, what he is doing here.
"You fell from a motorised stool on September 20, 2013. You have had a brain injury. You came to ABI Rehab on October 14, 2013. You are here to help you to get better."
Below the note is a picture of a contraption, half go-kart, half chair - a motorised bar stool.
The story of 62-year-old Greg's accident two months ago made headlines around the world, raising chuckles and snorts of derision as people pictured a drunk old fellow coming a cropper outside the historic Puhoi pub, north of Auckland.
But that scenario is far from the truth, and the aftermath - his gruelling long-haul recovery - is heartbreaking and inspiring.
Greg suffered devastating head injuries in the accident and has amnesia: he cannot remember the accident, and struggles to accept he went near a motorised bar stool.
He can't even really comprehend what a motorised bar stool is.
"I can't even tell you what it looked like," he says.
Jane, his wife of 43 years, reminds him of the picture of it in his room.
"Yeah," he says, "but I don't believe that's it."
"It is," says Jane, patting his hand. "It is."
He talks to the Herald on Sunday with Jane by his side. For a man who seldom cried before, emotions flow freely now.
"I just don't understand what happened. It's changed my personality completely. I'm ashamed of how things are. I'm just disappointed in what I did," he says.
"Don't be ashamed. You had an accident," says Jane, 61, reassuringly. "You made a silly decision, we'll call it for what it is. We all make mistakes."
Jane wasn't there when Greg had his accident, so she's had to piece together what happened.
Her husband had been a long-time patron of the Puhoi pub. For 35 years he'd been going there to meet old mates, share a pint, a bag of chips and a natter.
"What I've been told second-hand - because the two people who were with Greg haven't spoken to us, so I don't know - is someone imported a motorised bar stool and they asked Greg to try it out. And Greg did."
Jane says blood tests confirmed he hadn't been drinking, and she understands he had not even entered the pub.
Greg has had a lifelong love of motorcycles. There are eight bikes in the garage and 10 years ago he and Jane went to the Isle of Man Tourist Trophy races. Greg even has the "three legs of Man" symbol and a "TT" tattooed behind each ear.
So it's perhaps natural he wanted to try the ride-on bar stool.
In the unemotive language of the police press release: "The man wasn't wearing a helmet and has fallen on to the road from the motorised bar stool, sustaining serious head injuries. At the time of the accident the vehicle was being driven on the road; no other vehicles were involved." It was 1.45pm.
An eye-witness told the Herald on Sunday Greg had gone up and down the hill from the pub a couple of times before turning on to the flatter main road. He gathered speed then zig-zagged out of control. "He just lost control on the road and rolled. It went up on two wheels then rolled throwing him on to the footpath."
Greg came down hard on his head. People ran to help, finding him semi-conscious. He was rushed to hospital by helicopter and wasn't expected to survive.
As well as his brain injury, Greg also broke his collar bone, suffered a punctured lung and had bad bruising. Doctors had to remove a big chunk of his skull. His octogenarian parents rushed to his side from Australia to say their final farewells.
But Greg defied the odds. When he woke, Jane was there for him.
"Hi. How are you?" she asked, holding his hand.
"Who the f*** are you?" he said. They hoot with laughter about it now, but it was a hard moment in the hospital.
"I'm your wife, we've been married 42 years," she told him.
"Well that's too f***ing long," he replied.
His memory may have gone, but his sense of humour was intact.
"We've gone from that, to him knowing who we are," she says.
Now being cared for at ABI rehabilitation in Ranui, West Auckland, which specialises in helping people with brain injuries, Greg has daily half-hour physiotherapy sessions which are paying off.
"He's gone from having a walker with two aides behind him, to being able to walk with me."
Greg wears a special belt with a handle at the back for Jane or whoever is walking with him to hold on to giving him extra balance.
"It is a big worry, but I'm trying to get my job back," he pauses, knowing he's used the wrong word. "My life back."
"As near to it as you can," Jane says, holding his hand.
Physiotherapist Marina Farac says they're working on improving his balance, ability to walk on different surfaces and his exercise tolerance. More than half an hour is too taxing, she says.
English-born Jane is a parking warden and, for 30 years, Greg was an extrusion operator at a plastic packaging plant. He's originally from Grafton, New South Wales.
"I've been here about 40 years, so we're sort of just casual visitors," he jokes. They have three sons: Mark, 42, Lee, 37, and Luke, 30.
They're a close family. Lee is intellectually disabled and lives with them on Auckland's North Shore.
Even in those groggy early days of consciousness, when Greg struggled to remember Jane, he never forgot Lee. They are very close.
"Who's looking after Lee?" he'd ask. "I need to go and pick up Lee."
One of the difficult things is Greg's situation upsets Lee who is frightened by the stoved in shape of his father's head, hidden beneath protective head gear.
That piece of skull has been put aside, to be put back into his head. "He's on the waiting list," says Jane.
But she's not complaining. One reason for her telling their story is that she feels very lucky to have him still with her and is grateful to all the people who saved his life.
"We're so blessed to live in New Zealand. When you think of the treatment that Greg got and what he's got now. It's absolutely fabulous."
ACC, the air ambulance, the people who operated on him for hours, the many people who have shown them kindness, the dozens of people who simply texted to say "Thinking of you mate", her employer for letting her reduce her hours - she thanks them all.
"I know life will never be the same, but we'll get through it, and we'll be just fine," she says, holding his trembling hand. Tears well in their eyes, and he sobs.
"It's okay," she tells him. "It's all right, we can do this, Greg. Dig deep, we can do this." Her voice is calm, gentle, supportive but firm.
Last year 104 men and 29 women suffered moderate or severe brain injuries, costing ACC $16m so far.
The police serious crash unit is investigating Greg's accident.
A Puhoi identity is understood to own the motorised bar stool. Soon after the crash another Puhoi local offered to sell a photo of the vehicle to the Herald on Sunday for $5000. The paper declined.
Whatever the outcome of the investigation, Jane would like motorised bar stools banned.
She says Greg was always the parent who'd tell the boys to look after themselves, to be sensible, making his present condition doubly hard.
"Greg made a stupid decision on a day and we all make stupid decisions, but not to the cost that it has given Greg now."
Her message: "Just stop and think about the consequences. Everything we do in life has a consequence, and this is the result of a bad decision."
She expects they'll head home at the end of January or in February, to a very different life.
The Watts are at an age when the kids have grown up, gone to university, and they were looking forward to enjoying themselves.
Retirement, new cars, a bathroom renovation, a trip back to Jane's native England and another visit to the Isle of Man TT were all on the cards.
The experts can't and won't say what the future holds for Greg.
Jane accepts he will never regain what he had before the crash, but she is positive about progress to date.
"Our goal is he'll be able to drive again in six months' time," she says.
For now, that seems a long road ahead.