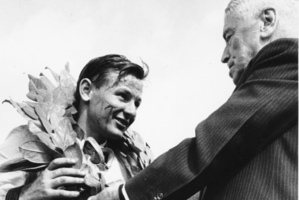 Racing driver Bruce McLaren would have been a serious contender for the Herald New Zealander of the Year in 1959 - when at the age of 22 he became the youngest driver to win a Formula 1 Grand Prix - and 1960 - when he was runner-up in the world championship.
In 1963 he was more than just a contender, he could not be ignored for the honour, as this was the year he founded the motor racing team which, under his name, went on to become one of the most successful in history.
McLaren Racing Limited - which races as Vodafone McLaren Mercedes - has just celebrated its 50th anniversary and boasts that, since it made its Formula 1 debut at Monaco in 1966, it has won more Grand Prix races than any other marque.
Some of the greatest names in motor racing have driven for McLaren in its distinguished history which includes 12 drivers' championships and eight constructors' championships.
They include Emerson Fittipaldi, James Hunt, Niki Lauda, Alain Prost, Ayrton Senna, Mika Hakkinen and Lewis Hamilton.
And then there was the founder, who was tragically killed in 1970 when testing a Can-Am car in England.
In his Formula 1 career, McLaren won four Grand Prix races and finished on the podium in 27 others.
But it was his technical skill and foresight that laid the foundation for his remarkable legacy - the racing team that still carries his name.
For that, he is our New Zealander of the Year.
From the Herald archives:
'Bruce McLaren - A leader in every way', NZ Herald online, 30 May 2012
Further reading:
'Bruce McLaren: F1 King', NZEdge.com
'Bruce McLaren', Te Papa Museum of New Zealand
'Motor racing driver Bruce McLaren killed', New Zealand History Online
'The Bruce McLaren Trust', Bruce-McLaren.com
Further viewing:
Trip at the Top documentary, 2001, NZ On Screen