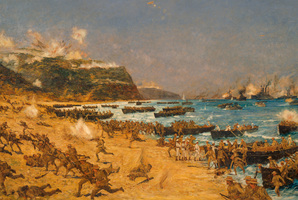 The battle that made a deeper impression on the New Zealand psyche than any other began in the early hours of April 25, 1915, when the Australian and New Zealand Army Corps landed at a place now known as Anzac Cove, north of Gaba Tepe on the Gallipoli peninsula.
The objectives of the Anzacs - and their British and French allies landing further along the coast - were to knock Germany's ally Turkey out of World War I and, by capturing the Dardenelles, gain access to Russia.
It was a bloody campaign, the high point of which came in August when the Wellington Battalion, under Colonel William Malone took a hill called Chunuk Bair in fierce fighting.
But they could not hold their position against a Turkish counter-attack. Malone was killed and Corporal Cyril Bassett, a signaller, was awarded the VC for conspicuous gallantry in laying a telephone line in daylight and under continuous heavy fire.
The New Zealander of the Year award for 1915 goes to all the men who fought at Gallipoli until they were withdrawn in December.
"I cannot tell you how magnificently the whole of the New Zealand troops - artillery, mounted rifles, infantry and Maoris - have done in our recent very severe fighting," wrote the corps commander in August.
Of the 8556 New Zealanders there, 2271 died and 4752 were wounded.
The importance of the battle as a defining episode in our history was immediately recognised and still is, but in a different way.
In its first Anzac Day editorial - which would have been read by many relatives of those who gave their lives - the Herald stressed the courage of the soldiers and that they were fighting for Empire and freedom.
In the 2001 version - when there were no longer any survivors of the battle and the Empire had long since vanished - the emphasis is more on the importance of the battle to our sense of national identity.
From the Herald archives:
'How the Dominion troops landed in Turkey', New Zealand Herald, 8 May 1915
'Landing troops suffer heavy casualties in boats', New Zealand Herald, 8 May 1915
'New Zealander's fight at Gaba Tepe', New Zealand Herald, 8 May 1915
'Men who have fallen', obituary of William Malone, New Zealand Herald, 13 August 1915
'New Zealanders win praise at Gallipoli', New Zeland Herald, 17 August 1915
'How Sari Bair was won and lost', New Zealand Herald, 4 September 1915
'Soldiers' letters', letter from Colonel Malone shortly before being killed in action, New Zealand Herald, 22 September 1915
'Corporal Bassett, V.C.: Young Auckland hero', New Zealand Herald, 19 October 1915
'Attack on Hill 971: Heaviest losses of war', New Zealand Herald, 1 November 1915
Leader on the first ANZAC Day, New Zealand Herald, 25 April 1916
'And more of us do remember them', NZ Herald online, 25 April 2001
Further reading:
'Gallipoli', Te Ara Encyclopedia of New Zealand
'The Gallipoli campaign, New Zealand History Online