Forest and Bird has closed all its reserves that have kauri trees and has challenged the Government to close all kauri forests to stop the spread of kauri dieback disease.
The society owns seven reserves with kauri trees: Matthews Reserve near Kaitaia, Matuku Reserve near Bethells Beach, Colin Kerr-Taylor Reserve at Waimauku, Onetangi and Goodwin-Te Haahi Reserves on Waiheke Island, Ngaheretuku Reserve at Clevedon and the Morgan Reserve near Waihi.
Chief executive Kevin Hague said the reserves had been closed to the public, and called on the Ministry for Primary Industries (MPI) to close all other kauri forests in the country.
"MPI's leadership of the national programme is so dire and slow that it is being left up to conservation and community groups, local councils, and iwi to try and deal with a crisis situation," he said.
"We believe all healthy kauri forests must be closed as a priority until we know how to stop the spread of kauri dieback disease.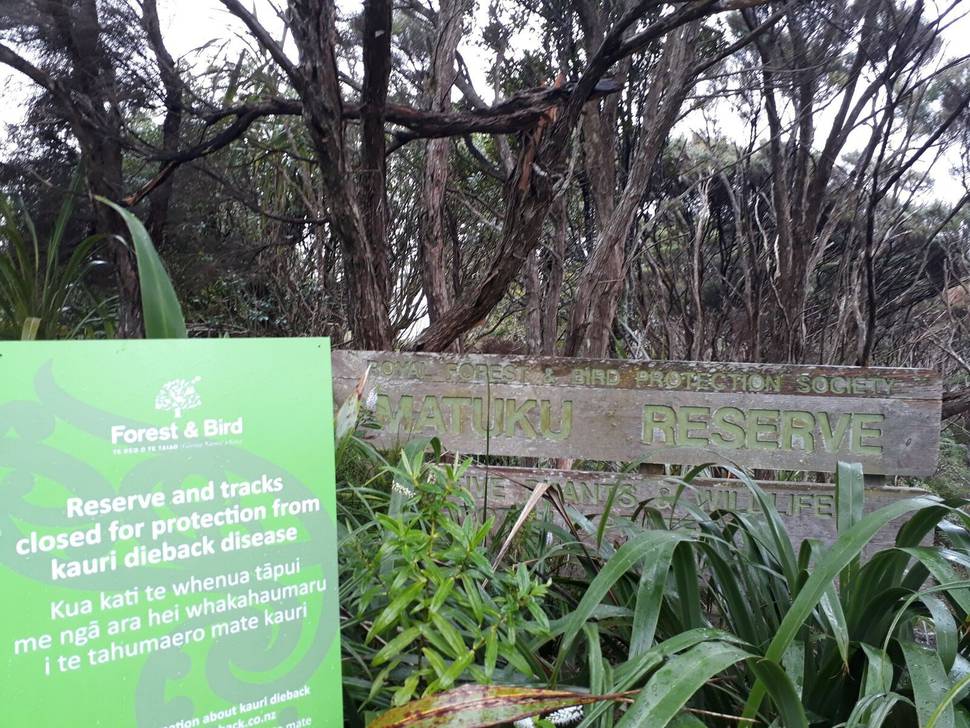 "The Department of Conservation has recently added kauri to the threatened species list and is currently consulting on track closures but we feel their list does not go far enough.
"Private landowners and reserve managers also need to protect these precious taonga through closures."
Auckland Council closed much of the Waitakere Ranges and high-risk tracks in the Hunua Ranges in May to stop the spread of dieback, which has infected kauri throughout Auckland, the Coromandel and Northland's Waipoua Forest.
Kauri Park on Auckland's North Shore was also closed last week after a tree was found to be infected.
Forest and Bird Waitakere branch chairperson Annalily van den Broeke said the disease had not yet been found in any of the Forest and Bird reserves, and the society wanted to keep it out by keeping people out of the reserves.
The disease is carried in soil and can be spread by people walking in an affected area and then walking into a healthy forest without cleaning their boots.
Van den Broeke said the Conservation Department had installed a foot cleaning station to protect the famous Tane Mahuta kauri in the Waipoua Forest, but Forest and Bird did not believe that was enough to protect the forest.
"Tane Mahuta is on a metal track and it's very easy to step away from that track," she said.
"If you walk on there, would you wipe your feet afterwards before you go into your house? You probably would. That means there is soil on your soles with the potential for kauri dieback."
In a statement, MPI said it welcomed efforts to protect kauri but was disappointed Forest and Bird "thinks it necessary to make inaccurate claims about combined efforts to prevent the spread of Kauri dieback".
The department had made "significant efforts" to engage with Forest and Bird and combat the disease.
""Despite repeated offers by Biosecurity New Zealand to meet with Forest & Bird and specifically address their concerns, these haven't been taken up to date. We are still waiting for a response from them regarding our most recent offer to meet and discuss these issues, and are looking forward to hearing back so we can share in a constructive discussion.
""We have also provided detailed written information to them in response to their concerns, and a huge amount of information about what people can do to manage the spread of the disease and the work being done by partners in response is freely and publicly available. This includes guidelines and other information available online.
"We all want the same outcome, and we welcome constructive feedback and engagement with anyone in the interests of saving our kauri. However, misinformed comments do not help the national and wide ranging effort underway."