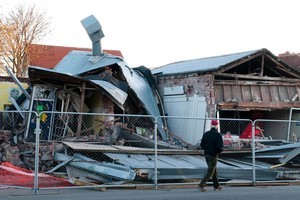 "A lot of people have lost the plot here. They can't take it any more. You can't blame them, really."
Alan Harris lives in Kinsey Tce, a clifftop street in the Christchurch seaside suburb of Sumner, where residents were last night leaving in droves after being hammered by rockslides caused by yesterday's two big earthquakes.
Cantabrians had been slowly becoming used to the earth rumbling, Mr Harris said, but the 5.5 and 6.0 magnitude aftershocks yesterday were "something else".
Christchurch was again plunged into a chaos of silt geysers, dustclouds, rockslides, traffic jams and collapsing buildings. No one was killed, but at least 46 people were taken to hospital with injuries.
Have you given up on Christchurch? Here is the latest selection of Your Views: