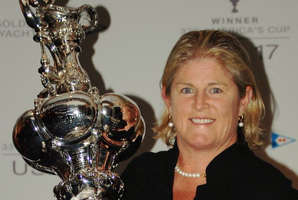 If Oracle Team USA have to hand over the America's Cup to Team New Zealand, few outside the syndicate would be more devastated than Elizabeth Murphy.
For the past three years Murphy's life has revolved around the Cup, earning her the moniker "the Trophy Wife".
An executive producer of special events at Oracle, she is responsible for managing the security, travel and operational logistics around the Cup's appearances, which, with 10-15 requests a week, has become virtually a full-time undertaking.
There are press conferences, photo shoots, video shoots, sponsor appearances, special events, dinners and the like - all of which require painstaking planning. Every time the Cup travels somewhere there are two security guards on hand.
"We have a communications plan in place so we know where she is at all times. We know when she is leaving a location and we know when she arrives.
There are a lot of safety nets in place," said Murphy.
As you would expect, the Cup's schedule has got even busier over the past few weeks, with up to five appearances booked each day.
"We have a pretty hectic dance card," she said.
"She's not unlike a rock star or movie star in that respect, only she's much better behaved - you never have to worry about her being a diva."
Murphy found herself in charge of the world's oldest sporting trophy shortly after Oracle Racing won the Deed of Gift challenge against Alinghi in 2010 in Valencia. She was asked to organise a reception for the team when they arrived back in the United States, part of which involved sorting out all the travel logistics for the Cup, including getting it through Customs.
Little did she know that from that moment on she would be known as the Trophy Wife.
It is a demanding role, but her oversight of the Cup has brought many incredible experiences. She has had the opportunity to travel around the world with the Auld Mug and as a result is now an expert in aircraft configurations and customs requirements for each country - something that is far more complicated than she ever imagined.
But Murphy said the effort was worth it. "People just light up in her presence. When you see what sort of effect she has on people that is what makes my job so special."
The most challenging appearance Murphy has had to arrange was a photoshoot atop the Golden Gate Bridge before the 34th America's Cup.
No one has been allowed to the top of bridge in more than 20 years, so just getting the security clearance to do so was a major undertaking.
Murphy also had to organise for one of the Oracle team's nautical engineers to create a special hook so the Cup could be fixed to the bridge without the use of lines, which would be seen in the shot.
"It was quite a feat of engineering in the end," she laughed.
Although being the Trophy Wife has been extremely demanding, Murphy said she would be deeply upset if the Cup were to leave Oracle.
"I would be devastated," she said. "We've all become very attached to her."