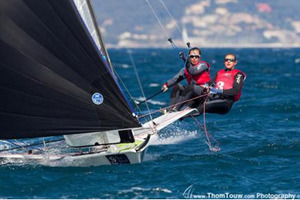 Four New Zealand teams remain in the top five of their respective fleets after day three at the ISAF Sailing World Cup in Hyere, France, as the chase for medals heats up.
The first day of the finals stage of racing brought good conditions with nice waves, sun and good easterly breezes, and it helped return some good results for most of the New Zealand contingent.
Alex Maloney and Molly Meech had their best day of the regatta, opening the finals series with a race win and backing it up with a third and a fourth in their other races. The young skiff sailors now sit second overall, four points adrift of the leaders.
"Epic day on the water with three intense races in crazy waves," said Maloney. "We had a good day, moving up the leaderboard, but there is definitely room for improvement. Pretty excited for similar conditions tomorrow."
New Zealand have three sailors sitting inside the top 10 in the hotly-contested Laser fleet, including Sam Meech (fourth), Thomas Saunders (fifth) and Andy Maloney (10th).
Although the top two places in the 113-strong fleet are unchanged after today, there was considerable movement in the standings below them, with nearly all the top-placed Laser sailors having at least one average result coupled with the transition in scoring from qualifiers to finals.
Josh Junior continues to hold fourth in the Finn class after placing eighth and fifth in today's racing. On nine points, he is just four adrift of the overall leader Pieter Jan Postma of the Netherlands. Teammate Andrew Murdoch is seventh, three points behind.
Men's 470 crew Paul Snow-Hansen and Daniel Willcox took a slide from second to seventh after capsizing in the opening race and then picked the wrong side of the course in race two to finish 19th. The duo are on 13 points, equal to the French crew, but are still within reach of the leaders with three more days of racing.
Marcus Hansen and Josh Porebski had their best day of the regatta collecting their first race win, plus another top-five finish in the 49er skiff event. The NZL Sailing Team duo jumped up the leaderboard and are now 10th.
Nacra 17 mixed multihull pairing Gemma Jones and Jason Saunders opened the finals stage in fine form with a fifth, ninth and sixth to jump to 13th overall.
Racing continues in Hyeres tomorrow with an increase in wind forecast. Each fleet has two more days of finals racing before the Saturday's medal races.
New Zealand standings after day three of the ISAF Sailing World Cup regatta in Hyeres, France, overnight (NZT):
FINN
4th Josh Junior (4, 8, 5)
7th Andrew Murdoch (5, 7, 8)
49ER
10th Marcus Hansen and Josh Porebski - 49er (19, 17, 5, 1)
49ERFX
2nd Alexandra Maloney and Molly Meech - 49er FX (3, 1, 3, 4)
LASER
4th Sam Meech (3, 18, 10)
5th Thomas Saunders (7, 11, 46)
10th Andy Maloney (13, 12, 19)
54th Andrew McKenzie (48, 52, 50)
99th Michael Cate (47, 35, 35)
111th Jack Collinson (50, 59, 54)
MEN'S 470
7th Paul Snow-Hansen and Dan Willcox (2, 11, 19)
29th Francisco Lardies and Luke Stevenson (18, 32, 30)
NACRA17
13th Gemma Jones and Jason Saunders (26, 5, 9, 6)
21st Tomer Simhony and Nicole van der Velden (19, 28, 25, 15)
- APNZ