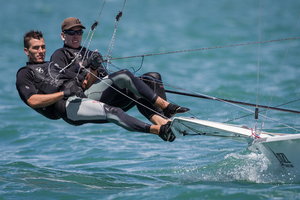 Peter Burling has always been destined for the America's Cup and the Olympic silver medallist took another step closer when he was named to skipper New Zealand's entry at September's Youth America's Cup in San Francisco.
Alongside him will be Blair Tuke, his partner at last year's Olympics, and who will be the "brains" of the team as tactician. Burling had some say in the makeup of the squad and it includes some of the brightest talents in New Zealand sailing.
Jason Saunders was one half of the men's 470 crew who finished fifth at the London Olympics, Andy Maloney was third at last year's Laser world championships, Sam Meech is a former Laser world youth champion and Jono Spurdle and Guy Endean are accomplished keelboat sailors.
Six sailors are on the boat during racing and all must hold a national passport and be aged between 19 and 24 years.
New Zealand will have a distinct advantage in the 12-team competition, given Burling's experience in skippering Team Korea last year in the America's Cup in San Francisco.
Burling has also been sharpening his skills on the AC45 used by Emirates Team New Zealand, who are supporting New Zealand's youth campaign.
"This is a really cool opportunity to race really fast and physical boats in a really small race track," Burling said. "The America's Cup has its drawcards even at youth level. We definitely go in as favourites. I would like to think we can come away with the win and it would be great for all our careers if we do well."
Burling's career is already in great shape.
He has been described as one of the world's most promising sailors because, as he says, he "knows how to make a boat go fast".
He's already been to two Olympics, even though he's just 22, and he's targeting a third with Tuke in 2016.
Burling is hopeful of helming Team Korea at the next America's Cup World Series event in Naples - their involvement is uncertain because they couldn't put a full America's Cup campaign together. "I would like to think I have got a good understanding of how the boat handles and what things to be careful of and what we can push," Burling said.
- APNZ