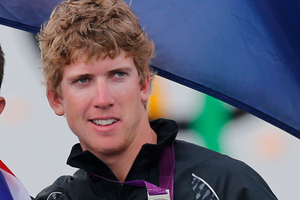 Peter Burling had been looking forward to a bit of a rest this week.
Life has been hectic since the London Olympics, touring around the country and showing off the silver medal he won with Blair Tuke in the 49er class.
Instead of taking it easy, however, Burling has been trying to keep one of the fastest and most demanding boats in world sailing upright. He received a call last week to see if he could replace Nathan Outteridge on the helm of Team Korea's AC45 for next week's AC world series regatta off San Francisco Bay.
He had never been on an AC45 before, which is the forerunner to the AC72s to be used at next year's America's Cup, and now he's being charged with trying to beat some of the best sailors in the world in the likes of Dean Barker, Russell Coutts and James Spithill.
Burling isn't fazed, however. Nothing seems to. It's borne out of confidence in his own ability, which is considerable, and experience.
He might be just 21, but he's already been to two Olympics and is being touted as one of the most promising sailors in the docks.
Outteridge, who skippered Australia to gold in the 49ers at the Olympics before signing with Sweden's Artemis, set a fairly high bar in the last round of the world series, guiding Team Korea to third in the fleet racing (Team New Zealand were a disappointing seventh).
Burling won't be expected to match those results, given he jumped on the boat for the first time on Wednesday but, as he says, "knows how to make a boat go fast".
"A lot of people in the yachting world have been noticing me for a little while now," he said in his laconic way. "It's kind of cool being this young to get an opportunity like this. I think I will be the youngest helmsman out there by quite a wee way.
"There are a lot of great guys we are racing against... [but] I think we have enough time between now and the event to be close to pace."
The first day saw them head into a calm part of San Francisco Bay as Burling familiarised himself with the boat. The next day they "took the trainer wheels off" and mixed it with boats from other syndicates.
They performed well enough but Burling has little idea how well they will do when the real racing starts, especially as he's not the only new face in the five-strong crew this week. He's also mindful that, although the boats aren't overly expensive at 600,000 a pop, mistakes can be expensive.
"The learning curve is so steep at the moment and, while we will obviously go out there to win races, it's hard to set a realistic goal," he said.
"It feels relatively similar to a 49er - it's pretty light and quick. The boat has a lot of power. If you get it wrong.... I have been given the hard word from the boat builders.
"My job is the least demanding [on the boat]; just pulling the stick and looking forward at them all sweating and panting away. There's not much I can really do to help them.
"There's a lot of concentrating downwind. I'm sure I will get a better feel for the boat soon but at the moment I am having to concentrate pretty hard to keep the thing in the groove and on a nice level heel. I'm finding if I look around too much it gets a bit away from me. I don't quite have the sensation yet."
It will come. It just does with Burling.
He hopes to remain with Team Korea if they continue in the rest of the world series - there are two more events in Venice and Naples next year - but isn't overly optimistic of lining up for next year's America's Cup. Team Korea are struggling to raise the cash to put a programme together and time is running out.
A career in America's Cup sailing beckons for Burling, if he wants it. He's still keen, however, to go to Rio in 2016 and the racing calendar usually makes it possible.
His schedule for the next 12 months is filling up rapidly. He's a wanted man and intends to keep it that way.
- APNZ