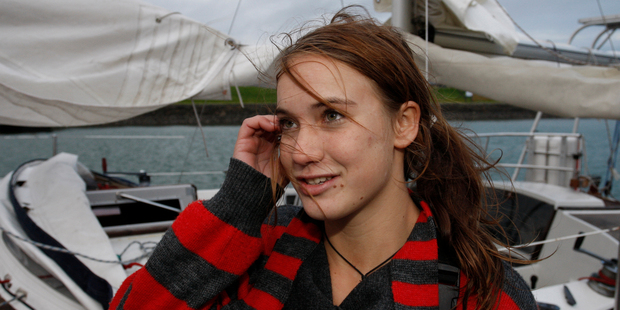 Fearless round-the-world teenage sailor Laura Dekker went like the clappers to arrive in Whangarei Harbour before dark last night.
Rough weather had torn away the mainsail on her 30-year old yacht Guppy on Saturday, but the confident 16-year-old shrugged it off as a minor incident when she pulled up at Marsden Cove Marina about 5.15pm.
A marine radio operator who had been in touch with Ms Dekker earlier in the afternoon said she was "going like the clappers" to beat a front that was closing in fast.
She motored around Whangarei Heads after running before a 30-knot northeasterly, determined to get into Whangarei before dark.
Ms Dekker had been warned by the marine forecast that she should try to make landfall before 7pm.
"I'm looking forward to getting into the Town Basin," she told waiting media as Customs and Ministry of Agriculture staff carried out clearance work.
She was also looking forward to a hot shower.
Ms Dekker and her crew member - a Dutch man named Bruno, whom she met in the Caribbean in January at the end of her round-the-world solo voyage - had taken 22 days to sail from Tahiti to New Zealand.
She had not been concerned when the weather got rough two days earlier, threatening her estimated arrival time.
On Saturday, the Guppy had been moving at speed when the top of the 11.5-metre ketch's mainsail ripped.
Ms Dekker sailed under the mizzen and storm jib until things calmed enough for her to change the mainsail.
"It was nothing really," she said.
"I'm used to it. I grew up sailing in the North Sea."
On Thursday, she had passed pieces of the 7500sq km stretch of pumice recently discovered floating out towards the Kermadec Islands.
"Oh, and we saw albatrosses. That was kinda cool," she said.
The record-setting sailor, who was born on her parents' yacht in Whangarei's Town Basin but raised in the Netherlands, turns 17 this month.
She plans to live in New Zealand, finish her schooling here and then return to dinghy and ocean racing.
Her dream is to represent New Zealand at the Olympics in sailing.
She is the youngest person to circumnavigate the world solo. Despite her parents' blessing, that journey started with as much controversy as adventure.
A legal fight with Dutch welfare services forced the then 13-year-old to wait until she was 15 to begin her voyage.
Once under sail, the teenager with joint Dutch and New Zealand citizenship replaced the Netherlands' flag at the stern of her yacht with New Zealand's colours.
LAURA DEKKER
Born
September 20, 1995, on her parents' yacht docked in Whangarei
Challenged...
...Dutch authorities when a court stopped her trying to sail, at age 14, around the world. Won a fight to end a court order, which had put her in state care, and set sail in January 2011. She completed the journey on January 21 this year, becoming, at 16 years and 123 days, the youngest person to circumnavigate the globe solo.
Her yacht
Guppy, a 11.5m ketch. The last leg of this trip, from Tahiti, covered 4100 km to New Zealand.
- Northern Advocate