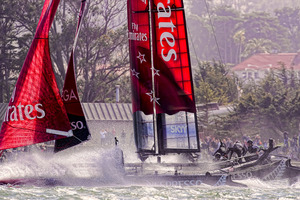 A feature of the latest racing in the America's Cup World Series in San Francisco is that dramatic gains and losses can happen, as Emirates Team New Zealand found out to their cost.
Team New Zealand had a much better day on the water today, emphatically winning their match race quarter-final against four-time Olympic gold medallist Ben Ainslie and JPM-BAR, and were fifth and third in the two fleet races.
But skipper Dean Barker was still far from satisfied with the day on the water, considering they led in both fleet races.
"The day started well," Barker said. "Winning the quarter-final against Ben Ainslie when we have not done much match racing lately was a good result.
"We are disappointed that we did not finish the job on the second fleet race. We had the opportunities to really nail it and we did not execute it well enough."
At least they didn't slam into the committee boat, like Oracle 5 did at the pre-start of the first fleet race. Oracle 5 were forced to retire.
Both races saw numerous lead changes in the strengthening breeze on San Francisco Bay and yesterday's big winners finished down the field - Oracle 4 (Spithill) were seventh, Artemis White sixth and Artemis Red eighth.
Team New Zealand finished fifth in the first race, after having had a share of the lead at least twice.
But teams were able to make dramatic gains - and losses - often in short passages of time. On the third leg, Artemis White gained five places to round the mark in second, Korea lost three and Oracle 4 lost five.
On the next leg, Team New Zealand suffered the same fate, losing five places.
The drama continued in the second race of the day. Barker started well and led for long periods but that lead was never comfortable, particularly on the short-tacking upwind legs, and they finished third.
"The tidal currents make it a very one-way track and no lead is ever big enough," Barker said.
Tomorrow Team New Zealand face Oracle 4 skippered by James Spithill in the match race semifinal and two fleet races are also scheduled.
Points table after four fleet races:
Oracle 4 (Spithill) 39
Team Korea 31
Luna Rossa Piranha 30
Energy Team 27
Artemis White 25
Artemis Red 24
Emirates Team New Zealand 23
Luna Rossa Swordfish 23
JPM-BAR 20
Oracle 5 (Coutts) 18
China Team 6
- APNZ