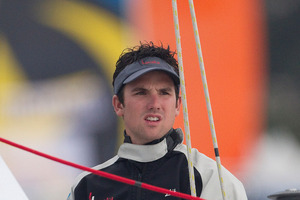 If captaining your country's yachting team at the age of 25 is impressive then captaining another nation, representing more than one billion people, seems downright phenomenal.
That's where young Kiwi match racer Phil Robertson sits after recently becoming skipper of the China Team in the America's Cup World Series. Robertson is now the youngest skipper on the AC45 circuit.
"I helmed the last event [in Venice last month] and if it all carries on I hope to be holding on to the [helm]," Robertson told the Herald on Sunday. "It's pretty awesome. Racing teams like Team New Zealand and Oracle - I guess it is the peak of yachting and we have learnt so much since we started sailing with China Team."
Robertson is the fourth skipper China Team has trialled but could be in pole position now for any of their future America's Cup ventures. In Venice they grabbed fourth sport in race one, their best result since joining the series.
It remains unclear whether China Team will raise the budget for the 34th America's Cup. The decision deadline is at the end of this month.
A graduate of the Royal New Zealand Yacht Squadron's famed training programme, Robertson and his Waka racing team have spent the last few years trying to make their mark on the sailing world. After making their debut on the the World Match Racing Tour in 2010, they finished eighth last year in their first full campaign. They have made a great start to the 2012 WMRT, notching up their first regatta win in Germany and following up with a third place at the Korea Match Cup.
Robertson and his all-Kiwi crew (Garth Ellingham, James Williamson, and Sam Bell) spent a month training at the China team base in Sanya in March before linking with the team for the AC45 events in Naples and Venice.
"Driving was an experience," laughs Robertson. "I don't think they really have road rules. That was definitely our scariest driving experience."
It seems a meteoric rise for Robertson and the crew but it has been a victory for planning, perserverance and pluck.
"One of the biggest things was that we decided to stick together as a team since day one," says Robertson. "That creates your consistency and you all learn together. You are never really starting again from zero. That has probably been the best call we have made. There have been a few opportunities for individuals and some guys have turned it down - and that has definitely helped in the long run."
After learning his craft in monohulls, Robertson is handling the shift to catamarans well: "A lot of it crosses over, it is just the boat handling and speed that are the big differences," says Robertson.
"Communication has to be a lot better because things happen faster. [But] that has grown from match racing and the strategy, the short course and tight confined racing relates to what we have been doing in the past."