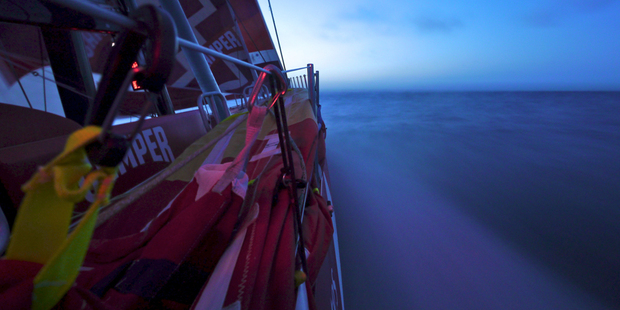 We have just crossed into the Northern Hemisphere for the second and final time in this edition of the Volvo Ocean Race. A good time to reflect on proceedings since the start of the leg 8 days ago.

The city and people of Itajai put on a fantastic stop over topped off with a spectacular day of action as we left to head to America.
Puma made their intentions clear early and lead away on the sprint to Miami. I say sprint because the expected leg time is 14 days, less than half the time it took for us to complete leg 5.
The first few days were very busy on board with lots of sail changes jockeying for position as we all tried to deal with crossing an initial light air zone.
Some smart work by our navigation team saw us hot on the heels on Puma on the journey north towards Recife.
Some compression of the fleet saw Puma, Telefonica and ourselves all within sight of each other for a few days.
And again some slick work form Puma allowed them to make another break away as we leave the Brazilian coast behind and approach the doldrums.

Life on board is typically hot and humid, fans running full time below, trying to give some relief to the relentless mugginess down below.
On deck shorts and tee shirt are the order of the day despite the fact we are now reaching along in 20 knots with plenty of water all over the deck.

The next few days will be very interesting tactically as we deal with our final crossing of the doldrums. We are hopeful our westerly position will see a fairly easy passage as we look for an opportunity to claw back miles to Puma and Telefonica.
Still over 2500 miles to go and the final approaches through the Bahamas and into Miami are notorious for variable winds, thunderstorms and strong currents.
So for now its head down work hard and try to be in touch for that final approach where anything can happen.