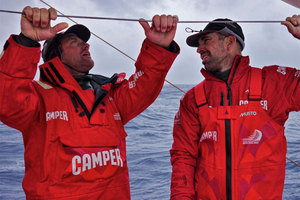 Camper are finally into some more consistent breeze after several days of light and variable conditions and are duelling with Puma for the lead of the Volvo Ocean Race.
Puma to the east and Camper to the west managed to benefit from the more favourable wind ahead of the rest of the fleet which gave them an immediate jump on the chasing pack of Abu Dhabi, Telefonica and Groupama.
Camper were 22 miles behind Puma, with Telefonica 39 miles adrift of the leaders, Abu Dhabi 41 miles off the pace and Groupama a more distant fifth 81 miles behind Puma.
This followed an intense 24-hour close quarter battle more akin to match racing than ocean racing between Camper and Abu Dhabi where only meters separated the two boats and the lead changed several times. The Team New Zealand boat finally gained the upper hand and Telefonica has since passed Abu Dhabi.
Although the fleet are now enjoying more consistent breeze, this might not last with models suggesting conditions are likely to soften again and become fickle again, with true trade wind conditions still some time off.
It could see the fleet compress again.
Camper navigator Will Oxley said decisions needed to be made around on just how far east they would sail before tacking to the north to clear the Brazilian coast for the last time at Recife.
"It's a critical decision," he said. "If you tack in your lane and you're pointing at Recife straight away you've probably gone too far. You've got to make sure you have enough in the bank to allow for the breeze to go right.
"If you come in too close to the shore you end up dealing with land and sea breezes which you don't really want to do, as well as negative residual current.
"Ultimately, we probably want to be a bit more east than what we are now, but the reality is that the conditions are so fickle at the moment that localised effects such as clouds are going to have more impact on us, so it's important we sail to make the most out of them.
"Our little duel with Abu Dhabi has kept us on our toes and by ratcheting up the intensity has probably resulted in us sailing that bit better. It's certainly nice to have put 20-odd miles on them over night."
Groupama helmsman/trimmer Charles Caudrelier said their hunt for better angles in the east had proved costly and left them trailing the fleet.
"We've been in better positions, it's true," he said. "It is a stressful time on board as we are still very, very far from the goal.
"We don't want to other guys to escape because soon there won't be as many tactical things to do."

- APNZ